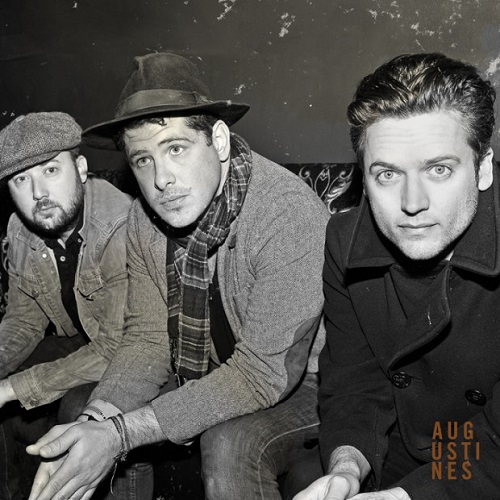 There are very few bands that are able to make a logical step forward from their debut  to second albums. Certainly not working class rock bands, who are frequently cast aside for lacking ideas, drive and ambition. Yet, with their combination of thundering power, mixed with a drop of grace, that is precisely what Augustines have achieved on their self-titled sophomore effort Augustines. Under their former moniker of  We Are Augustines, they released their debut, anthemic album, 'Rise Ye Sunken Ships 'in 2012. With recordings forged from Billy McCarthy's (vocals/guitar) life experiences with an alcohol-dependent mother, and the suicide of his brother, James, it was a raw, emotional listen made ever wanting by its open freshness and magnificent instrumentation. British born drummer Rob Allen joined their line-up (with Eric Sanderson, extremely talented multi-instrumentalist and McCarthy's long-time friend and bandmate), and since then the Brooklyn-based trio have toured extensively, before settling down to write their latest record.
From its echoing bass to its  harmonious chanting, opener 'Cruel City'' – is a mesemerising blend of excellent gravelly vocals, head-nodding – lyrics brimming with hope and optimism, – and a vibrant passion flowing through every drum beat.; this will certainly be a live crowd pleaser. The trio don't hold back there; the momentum and primal drive is pushed further, with  more ""Hey"" chanting  on "'Nothing to Lose But Your Head'", more sand-grained vocals, perhaps a reference to the lyric ""My mouth feels like an empty parking-lot"".  "'Weary Eyes'" slows the tempo down, an almost Dragoon Guard Band snare runs through the heart of this melodic rock track, with harmonies which wouldn''t go amiss on any offering by Enya.
Electric organ-enhanced ''Don't You Look Back'', with traces of Chris Rea's "Steel River" or "Stainsby Girls" possibly drifting in and out, allows Billy''s tonsil-ripping voice to draw away. ""Something's missing, something's wrong" he sings; on reflection, there isn''t. Exceptional dial-twiddling production and flawless musicianship, accompanied by life experience and unapologetically emotional song writing, bring this together in a song that's anything other than misery or sadness; – nothing''s missing,  and nothing''s wrong.
In contrast "'Walkabout"' opens as a slow-paced, piano-backed, falsetto-voiced album filler… but as Katis builds the up layers and pulls the talented trio together; he cranks up the chronos to produce one of Augustines' musical highlights. " "For me"," says Sanderson, ""the core of the record is the concept of a walkabout. Going on a journey to find – re-find – yourself after going through a life changing experience."" '"Now You Are Free'" (initially the working title of the album) is another prime example of the band''s growing confidence in their abilities. – The shackles are off, Billy McCarthy! Cello makes a welcome appearance on "'The Avenue'," a more andante number with melodic, hymnal harmonies, meandering their way through.  Closer '"Hold On To Anything"' returns Augustines back to track one, another finger tapping, throat-gargler with – plenty of ""Whooa – Whooas" thrown in for good measure.
In summary Augustines is not just a well-presented, well-produced rock album – It''s not just Billy McCarthy rising from the ashes of misery, turmoil and grief – It''s not just about the talented power train of music pulsating and twisting its way through the track listings. These guys have a pride in their work, and they certainly should be proud of this album.  Five stars all round.
Augustines is out now