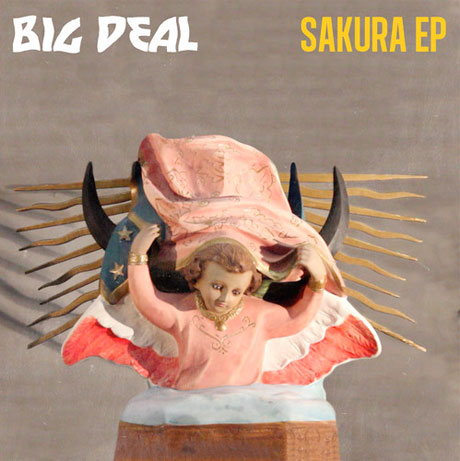 Following thesuccess of London-based Big Deal's first two full length releases, (2011's Lights Out and 2013's June Gloom), it's safe to say that the band is going from strength to strength with their latest 4 track EP, Sakura. For long term fans of the band, far removed are the memories of their rhythm section-less debut album, replaced instead by their continuing progression into a perfectly-oiled four piece band.
Sakura offers everything that Big Deal fans have come to love, with the title track providing perfect harmonies between singers Alice Costelloe and Kacey Underwood, dream-like lead guitar riffs, and a chorus that will leave you singing along in no time at all. The melodic, toe-tapping nature of the song will come as no surprise to the already-converted, and will undoubtedly draw in those new to their hazy, dream-pop sound.
Debut single 'Always Boys' illustrates their ability to find the perfect balance between grunge and mellow sounds. With the soothing chorus of "Always boys, that play guitar", it brings up the continual question surrounding Big Deal, of whether their relationship goes beyond a professional nature. Old favourite 'Talk' also gets up to speed with Big Deal's new full-band sound. While they've been playing the rhythm-section-and-all version live for over a year now, it's the first time they've laid it down in the studio, and it's an interesting new angle on the track. While the fragile beauty of the guitar-only original is somewhat lost, it's an excellent reinterpretation that matches their new sound much more neatly.
After a busy summer schedule supporting Peace on a nationwide UK tour, the group are continuing on throughout festival season. On a recent BBC 6 radio performance the band revealed plans for their third full length album. After clapping their ears on Sakura, fans will no doubt already be counting down the days.
Sakura is out now via Mute Records.