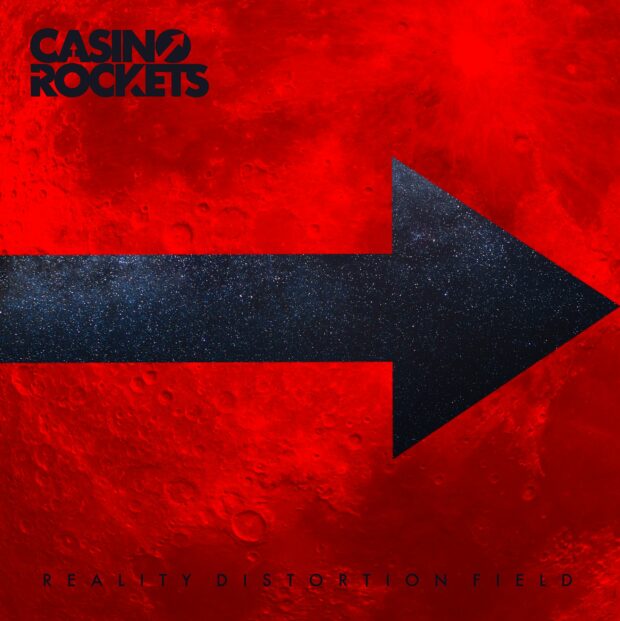 After releasing their debut single 'Black and Red' back in 2018, Casino Rockets, hailing from Halifax, have spent the last 3 years crafting away at 'Reality Distortion Field' and finally get to release it upon the public. Produced by Steve Whitfield (The Cure, The Mission and Jane Weaver) and mastered by Dez Ford (Scenius, The Fossil Collective and Klammer) the album ranges from pure psychedelic rock through to EDM undertones.
Opening track 'Impala' starts with a groove that The Prodigy would be proud of before giving way to a slow burning glam rock track overloaded with huge Americana style rock n roll. The band are made up of; Tiv Whitaker (Vocals and Synths), Rick Anderson (Guitars and Vocals), Dan Lea (Bass and Vocals) and the unrecognisable Chris (Drums).
The record contains a handful of standout tracks. 'People Like You' is wholly groove laden and the summery guitars remind the listener of Young The Giant. 'Simpatico Thieves' is another slow burner, but bubbles away with hints of an explosion in guitars and drums. It's moody bass and synth lines carry the track to a cataclysmic ending. 'The Maker' has strong EDM undertones as a moody and ghostly vocal carries the song with a rhythmic pulse. 'Drive Me To Dusk' (The latest single – watch the video below) earmarks early Cooper Temple Clause. It has a strong bluesy undercurrent and a deeply pulsating vibrant bassline. 'Feel Me Now' however is probably the iced gem of the collection. It is pure dirty rock n roll with a heavy bassline, throbbing drums and a melodic synth notes.
Across the album, the lyrics filled with a sense of claustrophobia, paranoia and science fiction themes that are becoming more and more a reality in these crazy times. It is also a spark of creativity in that no two tracks are the same. Changes in the rhythm and structure flow throughout each track. As the band themselves admit, is an album of "persistence and perspective, a journey from the bleakness of the mundane to the exhilaration of elevation; an adventure between the rock bottom and the summit".
The final track 'Kachumber' taking several years to refine, having being shelved numerous times because the band never felt able to do it justice. Until now that is. "The idea persevered and continued to evolve right up until the final mix," they say, "eventually becoming what we consider to be a melancholic epic that we feel is a powerful climax to the album".
For a debut album, it is rare to find a band so willing to be diverse with each track. It flows well, but requires an immediate listen and a complete listen in it's running order. Casino Rockets have the ability to move on to better things and this is a very humble and striking beginning.