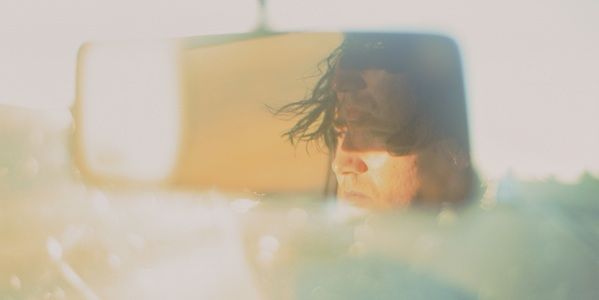 'Roadside blues'. It's an interesting tag for a genre, and one you feel needs to have some genuine, highway-wandering truth behind the images of terrible beauty and isolation it conjures up. For California-born, perennially- wandering songwriter CASS McCOMBS, the label isn't so much authentic, as inscribed into every dust-stained note of 'Big Wheel', the first track released from his upcoming LP, Big Wheel and Other Things .
McCombs has spent most of his adult life leading a  nomadic existence across the USA, Europe and the UK. It's something that's easy to pick up on in this single's lethargic restlessness, ewhich encapsulates the kind of aimless frustration so prevalent in 21st century life. "Rubber, metal, oil and stone, scoring in truck stops", hardly the romantic imagery you'd like to associate with the freedom of the American plains. This uncompromising honesty is part of what makes 'Big Wheel' feel so unsettling. The rest comes from the pounding drums  endlessly beating out their rhythms, the unchanging dynamics of the guitars, plucking out the same riff over and over again. This isn't a song with a chorus, or a hook, or a catchy melody. It's one that reflects the endless, grinding futility of Western existence, fading in and fading out, with everything in between like a drone, soothing and placating. At least if you go for that kind of interpretation.
However deeply you want to look, 'Big Wheel' is one of those singles that makes you want to take a few minutes of your day to stop, and listen. Whether you're wandering the American highways or sat in a greasy spoon in Watford, it captures enough of that great Western mythology of the open road to make it well worth the effort.
'Big Wheels' is out on January 27th via Domino Records.