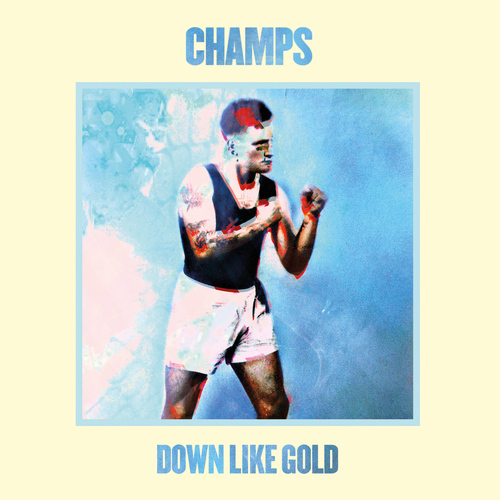 Michael and David Champion are two brothers from the Isle of Wight, known collectively as CHAMPS. Their debut album, Down Like Gold, is set to be released on March 3rd. This album, according to the band, is generally "about girls"… Hmm. Let's give it a whirl.
First track, 'White Satellite', is a dreamy, slow, indie-rock song with a Killers sort of feel. It totally conveys this sense of longing – maybe an odd choice for a first track, but maybe not. 'Too Bright To Shine' is reminiscent of M83's Hurry Up, We're Dreaming as the organ is a prominent sound on this one. It's really quite meditative and lovely.
Moving on to 'Savannah',the first single from the album, it's got a really great beat, and the layers and harmonies in the chorus are simply addictive. 'Pretty Much (Since Last November)' starts off with close a capella harmonies, similar to those on the album An Awesome Wave by Alt-J. The song has got a generally minimalistic feel – there's not much that happens throughout, it seems to stay on the same level, but still an enjoyable listen.
Next up is 'Only A Bullet Knows Where To Run'. In all honesty… a slightly boring track. However, things pick up with 'My Spirit Is Broken', which seems to be split into two halves – the first is more upbeat than ones that came before, and feels as though it's really going somewhere, rather than staying on the same level. The melody of the chorus is a definite earworm, and the lyrics "I'm not the reason why it's cold in your heart" are pretty powerful. The second half of the track is another that sounds straight out of M83's album.
'St. Peters' is another slightly dreary one, but is one that grows on you, even if at first it doesn't make much of an impact. '8MM Desire' could definitely be on the soundtrack to a US TV drama series – especially with the lyrics "And it's crazy what you could have had" – isn't that always a storyline?
Title track 'Down Like Gold' has a country-and-Western feel to it – the wind and whistling at the start, combined with the acoustic guitar, brings many images to mind. It's very chilled out. The final track is 'I C Sky'. It's got a beautiful, elegant melody throughout, the lack of drums really bringing its progressions to the fore.
All in all, a thoroughly interesting and enjoyable aural journey.
Down Like Gold is released March 3rd via Play It Again Sam.