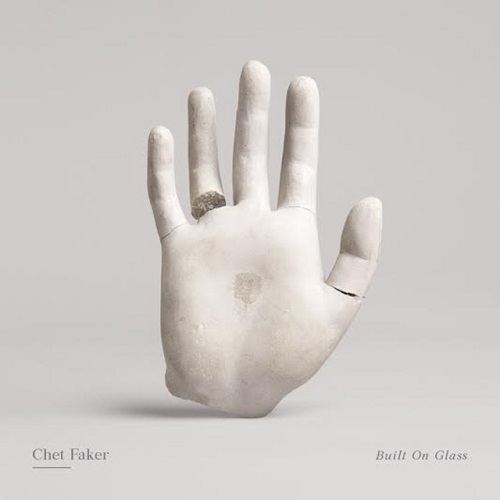 Australian singer-songwriter Chet Faker (otherwise known as Nicholas James Murphy) was the cause of some serious hype when his first tentative tracks made their way into the blogosphere back in 2011. The musician/producer was, at the time, working out of his Melbourne bedroom, but having since recorded and released a series of EPs (including a collaboration with Harley Edward Streten of Flume), it was only a matter of time until his debut full length emerged. Built on Glass is that album, and boy, was it worth the wait.
Opener 'Release Your Problems' is every bit as soothing and sedentary as its title suggests. It's a smooth, lounge-inspired track that doesn't so much ease the listener in, as takes their coat, pours them a drink from the mini bar, and asks them about feelings and stuff. Recent single 'Talk Is Cheap' introduces some dub beats and a little sax into the mixture, allowing the neo soul influences to start bleeding in. These are immediately swept away by the washed-out electronics of 'No Advice (Airport Version), a short but beautifully immediate song whose blunt lyricism makes its point heart-wrenchingly felt.
With 'Melt', the pace picks up again. Featuring the additional talents of Kilo Kish, it's a beat-heavy, sultry piece of electronica, with a dash of R'n'B added in for good measure. Both Faker and Kish's voices have a subdued, secretive tone in the song's verses. In the chorus, however, Faker opens up as the lyrics become less about pushing others away, and more about acknowledging that they were never really there in the first place; "My happiness is some kind of fucked-up mess. Looking out for you is the kind of waiting game that leaves me running circles into my brain. My loneliness will take no part in this overdose." 'To Me' is perhaps the pinnacle of this soul-influenced sound. Its soothing melody, reverberating electronics and keys, and occasional horn crescendos combine to produce what is easily one of the best tracks on the album.
'Cigarettes and Loneliness' takes things in a different direction entirely, featuring a guitar hook so brilliantly simple it's lodges itself in your ears from the first play through. It's an indie epic, almost eight minutes in length, and yet it passes by almost frustratingly quickly. Faker is once again gut-wrenchingly confessional in his writing, and once again he matches the emotions he conjures brilliantly with the song he constructs around them. "Maybe I could be this lonely guy that'll sing on a song. Another tease will come along with everything I don't want, and you won't see me walk past with another one". It's almost uncomfortably personal, but it makes sure that each song packs a gut-wrenching punch.
Built on Glass is a sublime heartbreak album. If you aren't in the mood to hear someone fall apart, and then try to put themselves back together, then it probably isn't for you. If, however, you're looking for an emotionally charged, cathartic and beautifully composed album to wash over you and leave you feeling that little bit cleaner, then this may just be it.
A brilliant, brilliant debut.
Built on Glass is released April 14th via Future Classic and Opulent.