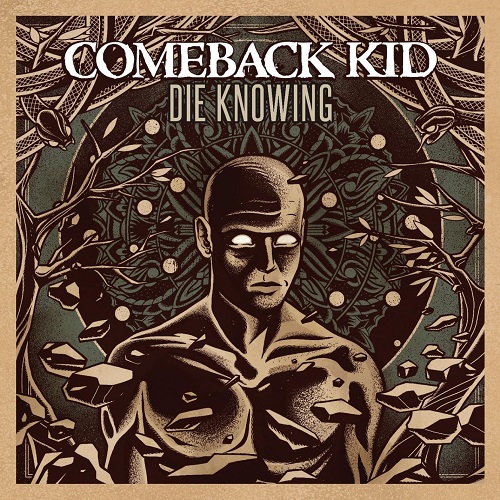 Since their inception back in 2000, Comeback Kid have done exactly what their name suggests, returning time after time with spine-tingling albums full of hardcore perfection. Die Knowing, released through Victory Records on 4th March, is no exception. The lyrics of 'Unconditional' – the ninth track on the album – sum up Comeback Kid's fifth studio album perfectly: "expect more, embrace more". It seems that these Canadian rockers aren't going anywhere any time soon.
From the album's eponymous first track, it becomes clear that this album is going to be nothing less than heavy. Laced with breakdowns and powerful riffs, it makes for an incredible listen. 'Die Knowing' is like a theme park steward; it eases you in at the start, and then straps you in for the ride of your life. You just want to ride that roller coaster over and over again.
A real highlight is a track entitled 'Wasted Arrows'. Pure, technically-challenging guitar riffs are blended effortlessly with melodic bass-lines and screamed vocal scores. When the chorus hits, and you shut you eyes, it's not difficult to imagine a huge crowd screaming back the lead line: "Wasted Arrows, Wasted Arrows".
As 'Unconditional' begins, the Canadian five-piece elevate themselves to a whole new level of excellence. The riffs become more intertwined, the vocals somewhat cleaner, and the breakdowns so much more exciting. Combined with frontman Andrew Neufeld's ability to get a crowd jumping, 'Unconditional' could prove to be one of Comeback Kid's best live tracks to date.
Topping off the album, 'Sink In' displays a far more emotionally (and rhythmically) varied side to the band. Their post-hardcore roots really shine through here, with sung, well-pronounced chorus melodies woven amongst Neufeld's screamed lead vocals.
This album has only one downside: the fact that it has to end. It's a truly excellent piece of writing and an essential addition to any rock-lovers' record collection. A masterpiece.
Die Knowing is released on 4th March via Victory Records.