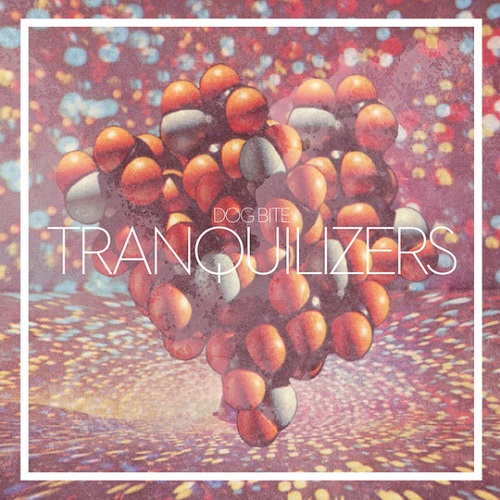 Fans of NBC's hipster-mocking tour-de-force Portlandia may feel a stirring of recognition as they start to listen to Tranquilizers, the new album from Dog Bite, aka Phil Jones. The theme tune for the show (which pulls apart the pretensions and foibles of the alternative communities of Portland, Oregon) is 'Feel It All Around' by Washed Out, for whom Jones performed live keyboard duties. However, Jones, who was already recording under the Dog Bite moniker, has now gone it alone once more. While it's easy to see that he and Washed Out's Ernest Greene are reading from the same hymn sheet, it's refreshing to hear the different spin Dog Bite have put on this particular brand of chill-wave electronica.
Opening track 'There was Time' could easily be mistaken for a Washed Out recording; its rich, choral electronics and gentle pace lending an air of 80s nostalgia, amplified further by the sustained guitar riffs and submersive layering of synths and beats. However, past this initial instrumental, the album transforms, straddling the middle-ground between Washed Out's particular brand of chilled electronica, and the modern psychedelica purveyed by the likes of Yuck and TOY.
While Jones' electronic prowess is easily apparent, it's the rest of the instrumentation that makes Tranquilizers such a brilliant listen. While so many of his peers quickly become repetitive, never straying too far from the washed-out electronics and slow-motion drum beats that litter their recordings, Jones remains conscious of the album as a whole, changing the pace and the instrumental mix to fantastic effect. Those at the more electronic end of the spectrum ('Clarinets', 'Dream Feast') are suitably epic in scale, with Jones' echoing vocals suitably backed by a choir of clean and distorted synths, the crashing drum beats providing the songs' beating pulse. More psychedelic tracks ('We', 'Wonder Dark') instead bring the guitars to the fore, their reverberating riffing matched perfectly against the electronicised beats and chords that float around them. Every instrument on the album is played by Jones, but in his careful layering, he's nonetheless created the sensation that a band are at work here, rather than a single producer with a knack for editing.
Stand out tracks like 'Lady Queen' strike the perfect balance between the two. From the opening, isolated bass riff, there's a sexual tension to the track that isn't present elsewhere on the album. When Jones sings "She's a Beauty Queen, with a heart of gold. She doesn't want you. She just wants it all", it's easy to imagine the raw appeal of this Laura Palmer-esque figure, prom queen tiara and all. On 'Tuesdays', the combination of powerful rhythms, hazy guitars and laid-back vocals is reminiscent of the Stone Roses, if a bit less melancholically British.
Tranquilizers is one of those albums that makes you want to re-assess an entire genre. While chill-wave was starting to feel as tired as its unenergetic label implies, Dog Bite's interpretation of its ambient, electronic aesthetics works brilliantly alongside the guitars and rhythms of 21st-century psychedelica. With a touring band put together, formed of Woody Shortridge (formerly Balkans), Stephen Luscre (Red Sea), William Fussell (Mood Rings), and Cameron Gardner (also part of Washed Out's live set-up), it might not be too long before they grace the UKs shores with a live tour. On the back of this album, they should be able to put on quite a show.