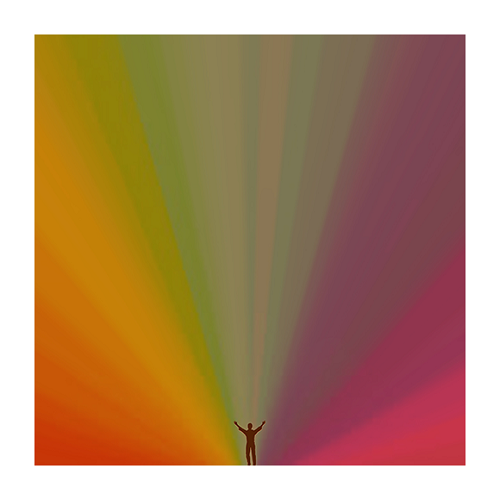 EDWARD SHARPE AND THE MAGNETIC ZEROS' self-titled third album is simply a joy for both long term fans, and those newly intrigued by the music of the ever-progressive, and seemingly endless, bearded mob*. Led by Alexander Ebert, the band seems to find an even greater maturity and sobriety, perfectly balancing their song-writing between life's inane struggles, and a feel-good factor that will leave the listener toe-tapping through their working day, as well as dancing around their bedroom.
From the opening track 'Better Days', you know that something very special is in the offing. Only seconds in, and the band's irresistible charm is making its presence felt. A rhythmic, piano-driven introduction leads the audience in to a well-constructed chorus where, as always, Ebert and Jade Castrinos' vocals manifest their distinctive chemistry. Sung in perfect harmony, 'Better Days' will let you empathise with a man clearly struggling to find happiness, while at the same time allowing the listener to share his hope that it could be around the next corner. The album ascends to new heights just a few songs further in, with  previous single 'Life is Hard'. This soul-exposing song bravely confronts the difficulties of life, considering pertinent issues such as heartbreak, self-image and loneliness. Ebert, however, isn't your average songwriter; in a chorus where he chronicles life's difficulties, it seems he's has embraced them and become a far stronger person for it. The song's official video was recorded entirely live, a very uncommon commodity in the 21st century music industry, and is definitely one not to be missed.
'If I Were Free' & 'In the Lion' show the diversity of the band's record. Two of the most spirited and uplifting songs of the year, they are reminiscent of the hazy days of 'Home', the song which brought them such wide recognition in 2010. The latter especially is a song to be celebrated, its psychedelic feel combining with the lyrical genius of Ebert to make for an incredibly inventive and engaging listen. The almost mad chorus of ''I feel the love, I feel the Power, it's getting weirder by the hour'' will undoubtedly have you singing along, and reaching for those dancing shoes, never too far away where ESATMZs are concerned.
The album concludes on a similarly sombre note to its beginning. Closer 'This Life' proves to be one of the most interesting songs on the record, the bass lines taking a back seat as shimmering guitar chords create a mellow, stripped back ambience rarely found in previous tracks. Ebert is perfectly supported by his ever-present ensemble, a gospel choir and as always his own impeccable vocal chords. Despite the alarming opening of ''I've been trying to pretend, that death is my friend, oh, this life, yes, this life ain't for me now,'' this song once again possesses the uplifting qualities that make their music so fantastic.
Edward Sharpe and the Magnetic Zero's self-titled album is without a question a fantastic piece of music making. Ebert continues to create faultless, top-quality music, both independently and with his band. For Edward Sharpe fans there's plenty of great news; a UK tour in February is enough to whet the appetite. Ebert is also earning the recognition he deserves elsewhere, with a Golden Globe nomination for his work on the All Is Lost original soundtrack, and with Oscar season just around the corner, it's safe to say it could be a great few months for the Californian.
*excluding the women, of course.