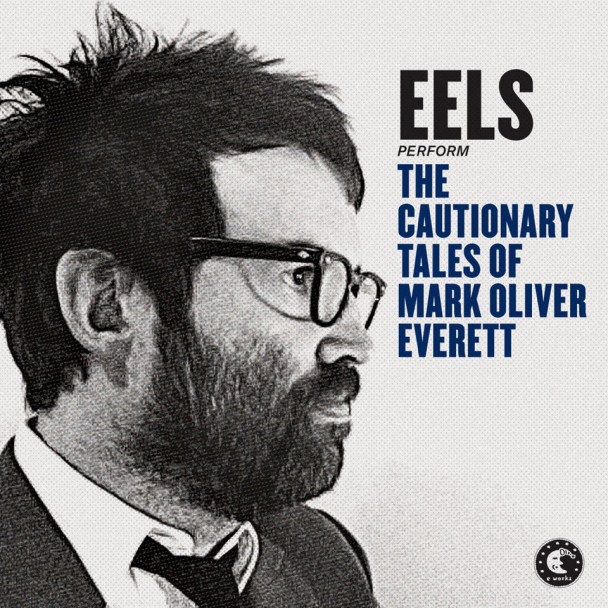 EELS return for their second album in just over 12 months. Following on from the upbeat and happy/rocky hysteria of Wonderful Glorious, E and co return with a more solemn and delicate affair. Encompassing everything that they are famed for, The Cautionary Tales of Mark Oliver Everett is the most open E has been in years.
Kicking off with a wonderful and floaty instrumental 'Where I'm At', this could be seen as a warning sign from E that this is indeed, where he's at. The whole album looks back at tales of nostalgia, loss and love. The things we are used to from the American blues rockers. 'Parallels' and 'A Swallow in the Sun' see a more stripped-back line up than in recent years. The electric guitars are still present, but gone are the scuzzy effects. The vocals seem hushed, yet a lot more focussed.
'Where I'm From' sees a slight "deep west" skiffle sound under the driving rhythm. Little things like the occasional triangle and xylophone notes being played show the immaculate precision that has gone in to crafting each of the 13 songs on the record. 'Agatha Chang' is a wonderful ode that is incredibly heart breaking in it's content.
'Series of Misunderstandings' may sound familiar to those who caught the album preview video. The simple structure of vocals and xylophone and a very delicate violin solo make this sound like it has escaped from a fairytale. Whatever goes on inside Mark Oliver Everett's head (E) sometimes must be a wild and very vivid landscape. Certainly a visionary for his generation, and a perfect craftsman.
'Gentleman's Choice' is quite simply a heart-breaker. E's voice sounds gravelly and strained, which only adds perfectly to the humble majesty. It's the kind of song that makes you envisage your future days in later life and being fully reflective of your time on the earthly plane. 'Dead Reckoning' and 'Where I'm Going' again follow suit, but are stunningly different. Fully reflective, yet the ways in which they are delivered are remarkable.
The Cautionary Tales of Mark Oliver Everett is not the rocky album Eels have become known for over the last decade, but an absolutely stunning piece of reflective thought/art, call it what you will. E, aka, Mark Oliver Everett certainly knows how to melt your heart, destroy it and melt it all over again. An absolutely perfect slice of melancholia.
The Cautionary Tales of Mark Oliver Everett is out now via E Works.