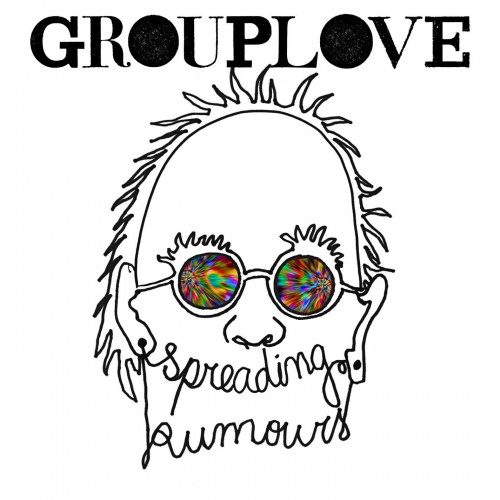 Grouplove, as a band, have grown and developed considerably within the indie/alternative scene since their five members first met on the Greek Island of Crete back in 2009. The release and subsequent success of their 2011 debut Never Trust a Happy Song (which spawned the American Alternative Airplay No 1 single 'Tongue Tied', and also provided them with a breakthrough into the UK charts – albeit at No 84) had the band touring and promoting extensively,taking to the stage at prestigious festivals on both sides of the pond. Three years later, and Grouplove are back with their sophomore album Spreading Rumours.
Spreading Rumours opens up with Hannah Hooper's (Vocals/Keys) solo piano intro on track one, 'I'm With You',  – a slow start which builds up adding more keys, Ryan Rabin's drums and an attempt at a haunting/eerie background vocal, which actually works well. After 01:50 things change though, and the song switches into an electronic pop song, with plenty of "Ah-ah-ah's" and "Oh-oh-oh's" from Christian Zucconi (Vocals/ Guitar), and virtually every word sung with an extenuating "I'm with youuuuuuu-ouuuuuu".
'Borderlines and Aliens,' a song title which inspires at the very least a hint of venom, but sadly delivers the lyrics "I lost my head in a gate today, So ari-ari-ari-gato" is, musically, a very good hard beat rock track which does deliver Alien venom… Pity though about the borderline lyrics.  Londoner Sean Gadd (bass/vocals) – a name which automatically would get any reviewer searching for the merest of connections, no matter how tenuous, with a certain fallen 70's Glam Rock icon (especially when the third track is 'Schoolboy') –  along with Rabin, provides an effective rhythmic backbone on this enjoyable track.
By track four it is fair to surmise how the flow of the rest of this offering from Grouplove will go. Hooper ,Zucconi, Gadd, Rabin and Andrew Wessen (guitar, vocals), are a bunch of very talented musicians, and blend well together. Their lyrics, however, leave a lot to be desired, especially on 'Shark Attack' – which unfortunately contains no shark. It would appear that the words have been made to fit the music, denying them a sense of direction or even real meaning. Rabin, an accomplished producer with rock ancestor roots, spends too much time bringing his drum sound to the fore, and quite often drowns out everyone else – possibly why Zucconi, annoyingly sings higher and drags out note after note.
'News to Me' is by far the highlight of the album – this track is perfect in every aspect; well produced, great sound to it and certainly far better vocals than on the preceding tracks.
On reflection, Spreading Rumours is a mix between a decent indie rock album and a set of songs which could be better heard live. Vocally it's more  lyrical Tourette's than awe-inspiring poetry, with half of the songs verging on complete childishness. Musically, though, it's excellent, and aside from the occasionally drum-heavy mix, it's an album their fans will undoubtedly love.
Spreading Rumours is released on 17th February via Atlantic Records.