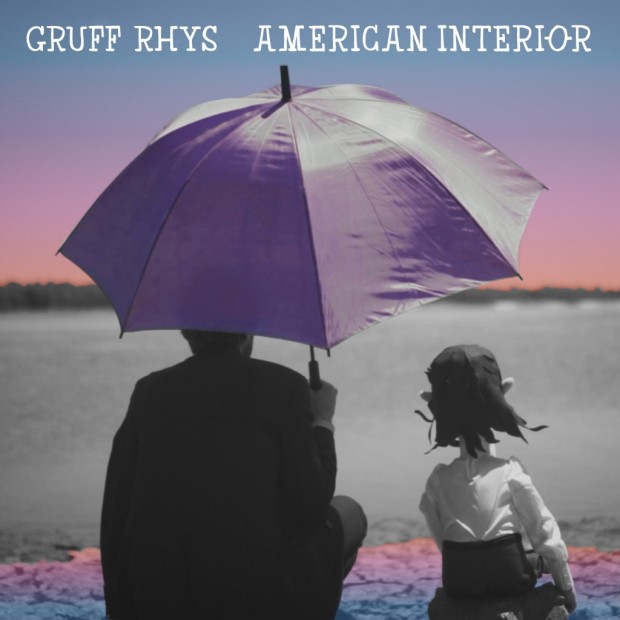 GRUFF RHYS, the Welsh maestro and brain behind legendary outfits such as Neon Neon and Super Furry Animals, releases his fourth solo album American Interior, which sees him take on a personal mission to explore his ancestor's  journey across America.
As a concept album, this is certainly something a little differently focussed, yet at the same time is it brilliant. After previously writing concept albums around such subjects as an eccentric car designer and a film about a lost Welsh tribe in Argentina, a Welsh explorer seems quite tame (even if it is unusual) subject matter to have inspired a happy-go-lucky album of acoustic, glam-funk. Simply put, it is a stroke of genius.
The title track is a stunning and wonderful slice of upbeat pop that sets the tone for an adventure. As a whole, the album sees Gruff's soothing vocals croon over a majestical soundscape of wonderment. '100 Unread Messages' sees Rhys tell the story of his personal mission to retrace the footsteps and gravestone of his distant relative, John Evans over a typical 'Old West' style melody. 'The Whether (Or Not)' begins in very familiar territory, combinging electronic elements from both Super Furry Animals and Neon Neon before the Wild West undertone resumes as the song moves on.
Nods to Rhys' past continue to crop up all over the album. 'Allweddellau Allweddol' is as the title would suggest, a glorious Welsh language track which instantly reminds you of the SFA's highly acclaimed early B-sides or Welsh album 'Mwng'. The track is mixed by DJ/Producer Andy Votel and features a children's choir in the mix. Just a typical line up for Gruff then.
There are further highlights across the record. The sleepy, wistful groove of 'Liberty (Is Where We'll Be)' wraps its loving arms around you and cushions you mid-record across this journey. 'Lost Tribes' and 'The Last Conquistador' hover tentatively around the line between brilliant and genius. 'Year of The Dog' and the closing 'Tiger's Tale' further emphasise Gruff as a solo artist well within his own right. A record of bonkers ideas, yet crafted so perfectly.
When you take in to account the personal element of this record, and note that in writing this Gruff toured across America with just an acoustic guitar and a puppet of John Evans for company… some would question the mentality of the star. To everyone else, this is simply Gruff Rhys. One of Wales' greatest exports, finest minds and a humble and quiet gentleman. Although this isn't a "summery" album, you do get instead an overwhelming sense of nostalgia, mixed with a visual landscape of the wild lowlands of the USA.
Gruff has produced another album of perfection. To find inspiration for not only an album, but a film, a powerpoint presentation (before gigs) and a book about his personal venture, you can do nothing else but applaud his creativity and individual pursuit. American Interior needs to be experienced. Not just listened to, but consumed and embraced until you are utterly absorbed.