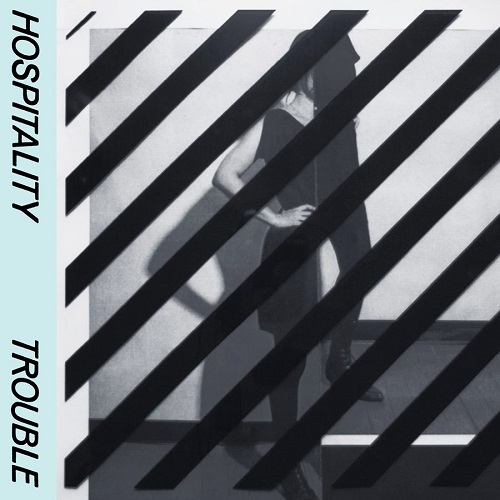 It's been almost two years since Brooklyn avant-pop three-piece Hospitality released their self-titled debut. Far from resting on their laurels, the band have put together another collection of diverse and imaginative tracks in their sophomore effort Trouble, an LP that yet again proves their talent for crafting vibrant and entertaining pop music.
Trouble, as its name implies, has a deep vein of rebelliousness running through it. Amber Papini's vocals, sometimes saccharine sweet, other times raw and confrontational, are excellently played off against a mixture of distorted guitars, rock'n'roll licks and melodic synths. As the first chords ring out for opener 'Nightingale', Papini defiantly declares "If you go to sleep dear, you'll see ghosts in your bed", her voice at once capturing a sense of open defiance and gleeful bitterness. The mismatched rhythms of the pounding drum beat and distorted guitar licks that follow only add to the sense of angst and confusion hidden beneath the overlying excitement and energy of the arrangement.
If there's one strand that ties together the brilliant array of sounds on Trouble, it's this underlying impression that Hospitality are a band who fundamentally enjoy making music. Lead single and altogether perfect garage-pop concoction 'I Miss Your Bones' is as infectious as anything else they've ever written, its driving chorus providing an excellent contrast to the frenetic chords and skittish rhythms of the verses. 'Going Out' is a smoother ride, with Brian Betancourt's excellent bass lines brought to the fore in a track that oozes slick, funk-infused confidence. 'Inauguration' and 'Rockets and Jets' add waves of electronics to the mix, creating a sense of 80s nostalgia that makes them feel more like guilty pleasures from an old mix CD than brand new tracks from 2014.
While it's hard to find a particularly melancholic moment on the album, there are plenty of times where the band slow the pace down a little. Reverberating minor chords and Papini's echoing vocals on 'Sullivan' play out across Nathan Michel's well-executed drum beat, building from its minimalistic introduction to provide the song with a sense of purpose in the middle third, giving a deep sense of rhythm that perfectly complements the arpeggiated chords that ring out in its final moments. 'It's Not Serious', while somewhat pacier, has the relaxed, ambient feel of a 60s pop song. 'Sunships', with its acoustic guitars and emotive horn solos, is a joy to listen to, reminiscent of Sufjan Stevens at his least bizarre.
In a music industry that is vastly over-saturated with identikit bands and identikit sounds, Trouble is a breath of fresh air. Spontaneous without losing a sense of direction, diverse without spreading itself too thinly, it is everything a fan could hope for from this talented Brooklyn trio. Well worth a listen.
Trouble is released on 27th January via Fire Records.