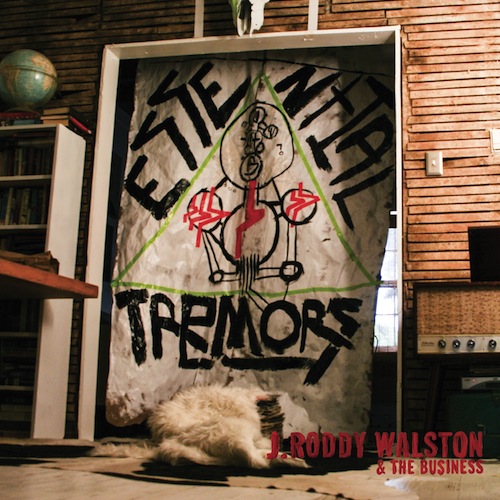 Essential Tremors is, essentially, tremendous. Every aspect of the album works so well as to showcase the wonderful world of J. Roddy Walston. With a sound that draws influences from a wide range of styles – from Kings of Leon to The Black Keys – there is truly something for everyone in this 11 track rock 'n' roll recording.
J. Roddy and co started life as a band back in 2002 in Cleaveland, Tennessee, but they quickly outgrew the place, clearly destined for bigger and better things. As their sound began to spread, the bearded quartet quickly gained the respect of musicians and promoters alike. This – their 6th studio album – is that big thing they were destined for. When you forget you're supposed to be reviewing an album when it's played, you know it's an incredible piece of composition. Essential Tremors will make you lose yourself: It's a masterpiece.
The opening song, 'Heavy Bells', is a fine example of this. Soulful writing and exquisite composition skills work together within the track to release a rock ballad from the woodwork of Walston's 1970 Yamaha CP-60 upright piano. This fact alone really tells you something about the depth of character that exists within the outfit. Walston is quoted to have refused to play keyboards, saying: "I don't play keyboards – I play piano. It's not like you'd tell a guitar player to play keytar." In 'Heavy Bells', this defiance and streng this self-evident, and pays off.
Later in the album, we hear 'Take It As It Comes'. In the New Artists section of our site, we recently featured a lad by the name of George Ezra. If you haven't heard of him, go take a listen – this track bears more than a few similarities to his distinctive vocal style. Such a world-weary tone, exploring such difficult subjects as grief, sadness and loss. The track manages to be uplifting in its bluesy routes, though. It's strange, but it works so well. 'Nobody Knows' is even better. The midnight point of the album, it demonstrates a softer side to the band, with almost the vocal score presented with Walston's, eerily dulcet, falsetto tones. It makes for a rather moving number.
Track after track, the album explores modern day American rock 'n' roll at its absolute finest. J. Roddy Walston sticks to his bluesy routes and then amplifies and manipulates this sound, crafting something truly excellent. Essential Tremors is an album that everyone should own a copy of. It's going to be around for a very long time to come.
Essential Tremors is released on March 10th via ATO Records.