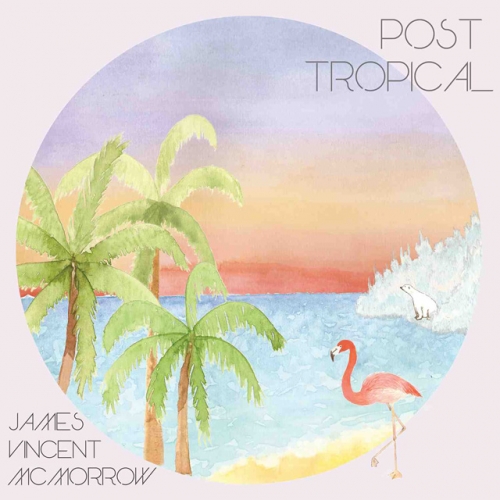 James Vincent McMorrow's angelic falsetto must be one of the most beautiful voices in music right now. It's certainly the star of the show on his second album, Post Tropical. His debut, Early in the Morning, not only reached number 1 in his native Ireland, but was also certified platinum when it was released back in 2010. Since then, his fans have had a long wait for the release of this brand-new, ten-track LP. Fortunately, it was more than worth it.
Leading single 'Cavalier' opens, its minimalistic organ chords and poetic lyrics instantly submerging the listener in what will be forty minutes of mesmerising, atmospheric soundscapes. As the muffled horns and drums take over, the song swells climactically, as McMorrow repeats his mournful refrain, "I remember my first love". Already picked as Zane Lowe's Hottest Record in the World, it's a perfect benchmark for the album to follow.
Many of the songs follow in this vein, brilliantly textured, yet retaining a sense of sparseness that keeps the ear always focused on the multi-layered voice that floats ephemerally at the forefront. In 'Red Dust', the instrumentation is layered over an electronic beat that sits, like a heartbeat, nestled and quietly keeping time. However, when it is joined by an off-beat clap, the combination somehow gives the song a strangely upbeat feel. The voice hasn't changed, but on tracks like this it's clear that McMorrow's willingness to experiment has grown. He claims that this diversified sound stems from his desire to "give this record the feel and movement of the hip-hop records that [he] loves". It's not the direction you'd have expected. Indeed, on the surface there's relatively little in Post Tropical to suggest those kinds of influences. Whatever his inspiration, however, there's no arguing with his perfect execution.
In amongst the quieter tracks are dotted some far more anthemic numbers. 'All Points', with its syncopated rhythms and infectious opening, builds satisfyingly towards its final verse, only to retreat into a rhythmic, stripped back chorus that should provide a stark and beautiful contrast in live performance. 'Repeating', is similarly rousing. One of the most aurally dense songs on the record, its gently-plucked opening is suddenly interrupted by bursts of sound; piano, muted brass, and a chorus of vocal riffs that continue as a drum roll builds gently in the background. It's a lush and inviting track, another typical example of McMorrow's seemingly unending knack for truly original, deeply connected songwriting.
Post Tropical is one of those albums that gets better with every listen. For fans of his earlier work, it will be further evidence of his unique creative capabilities. For the uninitiated, it's a stunning introduction to a songwriter who could well be one of the defining artists of his generation. A must listen.
Post Tropical is released on 13th January via Believe/Vagrant.