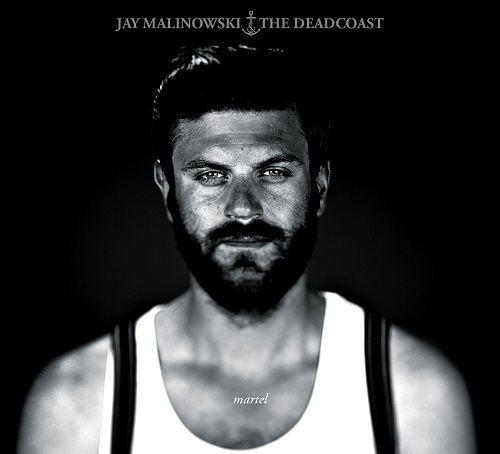 Nautically- inclined and with a refreshed demeanour, Jay Malinowski (Bedouin Soundclash, Armistice) has joined forces with string and vocal trio, The Deadcoast (Formerly The End Tree) in his newest musical endeavour. The Canadian group, which released their 5-track EP Indian Summer in 2012, are due to release Martel, their first studio album together, on February 11. "The record is about displacement, and the somewhat romantic tragedy of being some kind of sailor."
The 18-track project is a sea-drenched concept album which traces the life and adventures of Jay's Huguenot ancestor, Charles Martel. Lead by handwritten letters from the sailor's perspective, Martel tells the story of Jay's grandfather through his own interpretations and re-imaginings. Through the album, Jay explores his lineage, illustrated by maps and records left by Martel.
Jay Malinowski and The Deadcoast provide a full audio experience through Martel. As the album begins with the toll of church bells and Jay's poetically spoken introduction, it reaches for its theme, and grasps onto heartbreak and endless self-discovery. The second track on the album,'Meet Me At The Gate,' leads strong with pounding drums, and tracks like 'Patience Phipps,' and 'Carnival Celebration #2' carry the energy through to the end.
Jay's voice is as unique and charming as ever, and the influence from the supporting string eccentrics is clear. The marriage between The Deadcoast's unique style and attitude, and Jay's artistic insight is truly a brilliant combination. Together they play by their own rules and make no mistakes in the process. As a whole, Martel is the perfect ensemble of a submersive aural experiences, and an album full of catchy tunes expanding across a variety of genres.
As a tribute to Martel's voyage, the record is split into two halves; Atlantic and Pacific, and Jay explains "I believe growing up on an ocean has a deep effect on a person. I grew up on the Pacific, and so from there I started exploring my fascination with the ocean, and put my music, letters, and drawings into the perspective of our shared love for the Atlantic and Pacific." This can be seen visually on the website (and Twitter), WhoIsMartel, which provides an interactive map with markers for each track on the album. An illustrated novel will also accompany the album.
Martel is an unforgettable addition to Jay Malinowski's already impressive portfolio, not to mention The Deadcoast's beautifully crafted string accompaniment. It's the kind of album you could, and should, get endlessly lost in.
Martel is set to release on 11 February through Malinowski's own label, Pirates Blend Records.