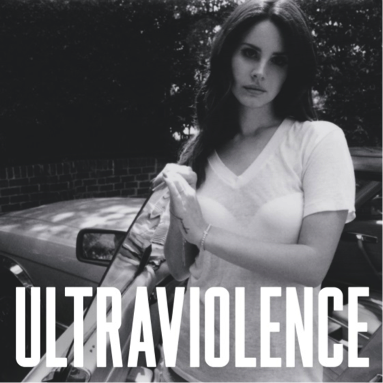 It's hard to tell where the marketing ends and the talent begins with Lana Del Rey. While she undoubtedly has some seriously impressive vocal chords, her emergence from the dry ice of an incredible PR make-over saw her leave plain old Lizzie Grant behind in favour of a slick, sultry image that turned more than a few heads with debut Born To Die. There's only so long that marketing can do the work for you, however, and once the initial glamour of her arrival faded, the question remains whether third album Ultraviolence would have the substance, and the stamina, to uphold that reputation.
Fortunately, those worries are largely put to bed in an album that continues the deliberately dark and beautiful sound she has become so synonymous with. Opening with twanging, sitar-esque guitars, 'Cruel World' gets the album off to a suitably reflective, relationship-focused start. Layer upon layer, it builds to a euphoric yet melancholic chorus, as Del Rey's higher register makes a confident first appearance. Title track 'Ultraviolence' brilliantly contrasts her fragile recitation of the track's title against a backdrop of ebbing strings and atmospheric electronics.
The tracks drip-fed to fans so agonizingly over the past few weeks, like the trippy 'West Coast' and the warped, lullaby-esque 'Shades of Cool', sound even better when mixed in amongst the melodies and miserable euphorias of their surrounding album tracks. While the choruses breach above the sea of self-reflective sadness to give the audience a hook to hold onto, it's the raw, confessional nature of the lyrics as a whole that gives these songs such power.
Her words carry across backdrops of reverberating guitars, down-tempo beats, and electronic punctuation marks, each song delving down further into the agonies and ecstasies that characterize her relationships with men. 'Pretty When I Cry' and 'Sad Girl' are heart-wrenching in their confessional nature, the former building to a climactic, guitar-shredding finale while Del Rey's voice refuses to be drawn into its contagious energy.
It's clear, listening to Ultraviolence, just how much she has grown as a song-writer. 'Video Games' and those first few singles were undoubtedly great, but the lyrics and the music surrounding them have gained a new sense of confidence, of self-assurance; whatever her personal insecurities, her voice has never sounded better. In covering Nina Simone's 'The Other Woman' she attempts the impossible, and does a pretty good job of it, capturing the tragic glamour of the original, her voice shaking with the emotions it evokes.
For those prepared to fork out a little extra, the deluxe version also includes three bonus tracks ('Guns And Roses', 'Florida Kilos' and the previously leaked 'Black Beauty'), each of which is well worth a listen. Even without them, though, the album is a fantastic accomplishment. Ultraviolence may be more sedate than sadistic, more miserable than mauling, but there's no denying – it certainly packs a punch.
Ultraviolence is out now via Polydor.