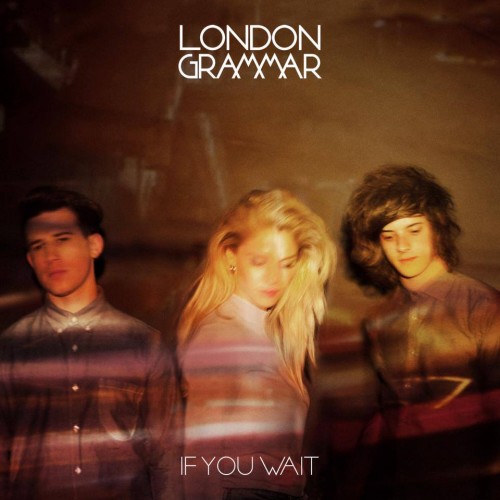 If there was an award for 'most pressure on a debut album', I think it's fair to say that British trip-hop trio LONDON GRAMMAR would be in with a good chance of winning. The intense hype surrounding the release of their first ever full-length, If You Wait, was helped in no part by the fact it was tipped to win the Mercury Music Prize before the nominations had even been announced. While the nomination was ultimately nowhere to be seen, it detracts nothing from the fact that this is a self-assured, poignant recording from a band whose maturity seeps into every note.
From the moment vocalist Hannah Reid's sultry tones kick in, the emotive power of their music is palpable. Balanced over a delicate electronic soundscape, resplendent with shimmering guitars, retro keys, and almost industrial base hits, the three masterfully strike a balance between the raw simplicity of the lyrics, and the unassuming complexity of the musical arrangement. In the album's sparsest moments, it is as though they use the silence itself as an instrument, confidently stripping away and re-adding the multiple layers that make this such a sonically rich and rewarding listen.
'Hey Now', along with 'Metal and Dust' and 'Wasting My Young Years', will of course be familiar to those who had already registered London Grammar on their radars, long before the Mercury hype and guest spot on Disclosure's 'Help Me Lose My Mind'. That these standards have been so seamlessly fitted alongside new tracks like 'Strength' and title track 'If You Wait' is testament to the unity of vision that presides over the album as a whole. The simple beauty of the latter, with Reid's vocals evoking Bat for Lashes' Natasha Khan at her most powerful, is particularly haunting. "If you wait, I will trust, in time, that we will meet again," the naïve vulnerability of the emotions expressed amplified by the stripped-back piano and strings that swell and fade around them.
Only closer 'We're All Here' deviates from the evocative, melancholy sound that precedes it. On this final track, they pick up some speed, the maracas and djembes combining with prominently-featured guitars to create a funk vibe that makes it feel slightly at odds with the contemplative nature of what came before. As a final track, however, it's somewhat refreshing to have a little positivity seep back in, as you emerge  from the haunting, negative space that the rest of the album so tangibly constructs.
They may not have received that coveted Mercury nomination this time around, but on the back of If You Wait, it would probably be fair to say, they earned it. On its own it makes for a powerful listen, but when you add in the fact that this is the debut album from a band still only in their early twenties, its emotional weight and the sheer craftsmanship of the songwriting are outstanding. It looks like 2014 is set to be a big year for London Grammar.