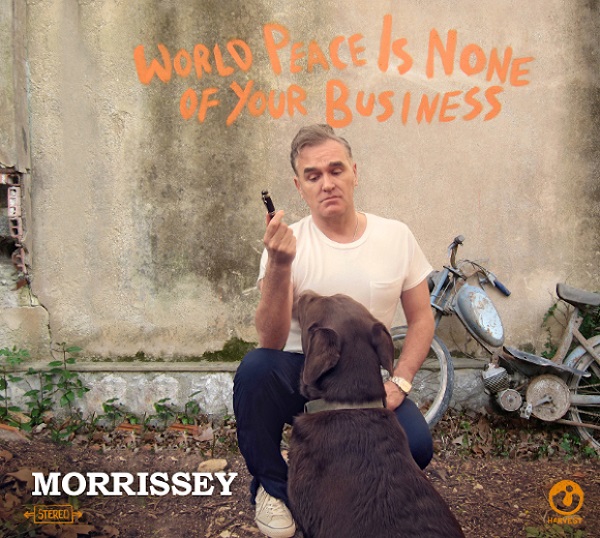 Let's be honest here; you wouldn't expect anything less from Morrissey than to release an album entitled World Peace is None of Your Business. From the start, he has been a figure of astounding controversy. His well-known hatred of the monarchy and abrasive vegetarianism only scratches at the surface of what is a very telling disillusionment with the current political climate – and in his 10th solo studio album, he doesn't hold back.
Morrissey launches straight into the political commentary in the opening title track, throwing lines like "Police will stun you with their stun guns/Or they'll disable you with tasers" around in his bittersweet (and sometimes "holier-than-thou") voice. The lyrics are simple, unrewarding, and quite frankly, boring. . The most interesting part is undoubtedly the arrival of a (slightly grating) guitar solo, as if a reward for tolerating Moz's poor rhyming choices ("Bahrain" and "Ukraine" Really?) Overall, it's difficult to know whether this is truly an enjoyable song to listen to, or even if it holds the merit of being catchy, but one can tell it isn't exactly a good start to an album.
Better, then, to listen to the songs on this album which more clearly present Morrissey's ambitious change in musical direction. 'Neal Cassady Drops Dead' is a song with potential – featuring growling guitars and throbbing keyboards, along with a surprising flamenco guitar solo. Here Morrissey pays tribute to the Beat Generation; sentiments such as "Neal Cassady drops dead/And Allen Ginsberg's tears shampoo his beard" are strangely juxtaposed to comically rhyming diseases. This song is probably the best example of how Morrissey and his band ambitiously decide to swing for the fences in this album, adding a Latin flair to the smouldering rock.
'Kick The Bride Down The Aisle' (what a Morrissey song title) along with 'Mountjoy' both display something that the once teenage goth doesn't seem to have lost. The misogyny of the former and the misanthropic mood of the latter will most likely be a delight to old fans – neither are likely to make the radio or public listening though. Flamenco riffs amid spacy synths and gated electric guitars on 'Earth Is the Loneliest Planet' make for a refreshing listen, whilst arguably the most interesting song on the album, 'Istanbul' does not only provide surprising lyrical tenderness, but also includes atmospheric street sounds accompanied by an exotic, grungy glam rock tune. The composed-yet-menacing ballad of 'Smiler With Knife' provides the high point on the album, with plenty of pitfalls on the way of unremarkable but catchy and clean songs.
'Kiss Me a Lot' is a song we don't really expect to hear from Morrissey. With a Spanish guitar strumming excitedly in the background along with a somewhat jarring trumpet, Morrissey delivers one of his most romantic sentiments ("Kiss me all over the place/Kiss me a lot… but when you've kissed me/Kiss me all over again"), something devoid entirely from the discography of his better half – The Smiths.
Overall, fans are sure to find something in World Peace to suit their taste. It might mean overlooking the bland lyrics, and Morrissey's ever-increasing sense of preachy political satire and self-absorption, but there is some lyrical and humorous value that comes with his somewhat welcome change in style. This change seems too fast-paced, moving too quickly between temperaments, but nevertheless, World Peace Is None of Your Business is a fairly solid addition to his discography, and those who have enjoyed his previous solo albums will most likely welcome this one with reluctant arms.
World Peace Is None of Your Business is due for release on July 15th via Harvest Records.