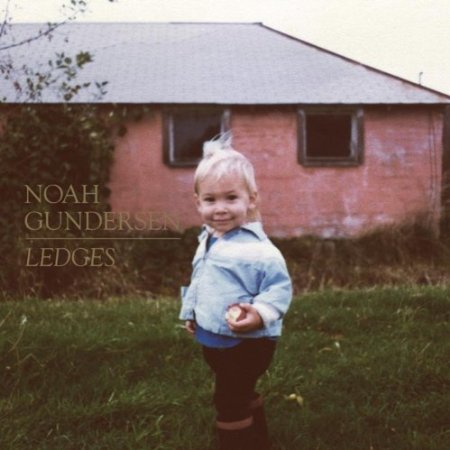 Although Noah Gundersen has been making music for at least nine years, the 24 year old singer and songwriter will be releasing his first full length solo album on February 11. Ledges is a self-reflective folk album heavily laced with themes of heartbreak, atonement, and spirituality. Noah explains, "Much of the album was written toward the end of a period of being single and reckless. –I've swept a lot of things under the rug. I started asking questions to people I respect about what it means to be a man and, in a larger sense, a decent human being. This record is the culmination of that process."
The 11-track record serves as his debut album as a solo musician, although he's recorded several EPs and albums with several different projects, including his previous band, The Courage. From his previous band, his sister Abby makes yet another appearance in his music, providing beautiful string arrangements. "The chemistry Abby and I have is unlike any other I've experienced in music. She's an essential part of what I do."
With a voice that alternates seamlessly between sweet honey and whiskey soaked gravel, Gundersen's lyrics resonate emotionally throughout the album. The album's first track, 'Poor Man's Son,' begins with a sound which may seem familiar to fans of the Coen Brothers film, Oh Brother, Where Art Thou? (2000). Beginning in an accapella gospel chant, the song sound uncannily like the film's take on the traditional Christian folk hymn, 'Down in the River to Pray,' which is performed by Allison Krauss. The likeness becomes literal when, nearly halfway through the track, Gundersen begins singing 'Down in the River to Pray,' turning the song into a unique medley.
Coming from a strong conservative Christian upbringing, religious themes have been consistent in Noah's music throughout his career. In Ledges, spiritual elements continue to dominate, although he claims that his faith has changed over the years. "I'm not a religious person anymore, but I've learned that spiritual energy transcends religion and that's something I've attempted to incorporate into my music," he explains. "Religious imagery was a large part of my upbringing. It's still beautiful, powerful and timeless." 
A notable track on the record is 'Boat House', which revisits a familiar name in his music, singing "Caroline, my heart is aching but I can't quit this town/ Caroline, my heartless drinking I can't quit this time." The lyrics echo one of his most successful singles, 'Caroline,' taken from his 2009 EP, Saints & Liars.  In 'Dying Now' Noah's lyrics are more like heartbroken poetry, as the song  examines the inevitable end of a relationship; "It's the little things that convince me to stay/ it's your fingertips and the music they play to the beat of my heart…"
Ledges was self-produced in Stone Gossard's (Pearl Jam) studio, Litho, in Seattle, something which had a great influence on the album's final sound. "Something about Litho was very inspirational," he explains. "[Ledges is] not overly produced; we left a lot of the mistakes in." And the album is all the better for the mistakes. The self-production of Ledges was a good move on Noah's part. With Ledges, he has achieved a record which would be virtually unattainable on a major label. This is an album worth being proud of.
Ledges is released on 10th February via Dualtone.