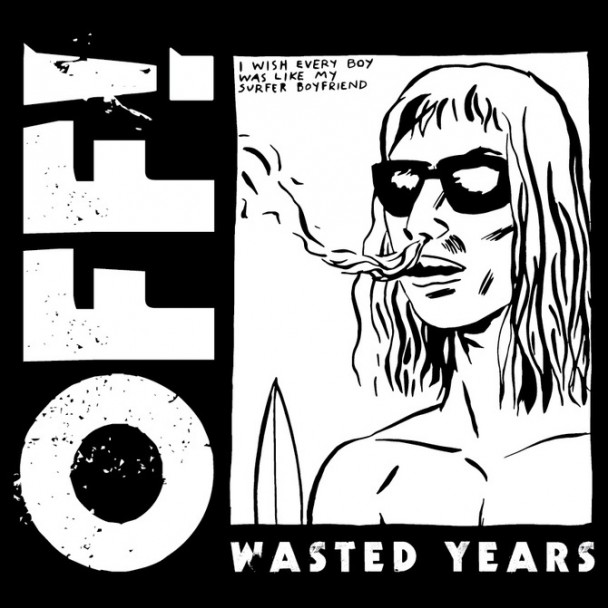 Have you ever been at a hardcore show and hear someone say "Yeah, they were good, but hardcore was better back in the day"? Probably coming from someone wearing a Gorilla Biscuits shirt because they think Black Flag shirts are too popular. Do you remember the thrill of hearing those early bands like Minor Threat, and Circle Jerks? Do you want to recapture that thrill of hearing something so aggressive and raw? Then listen to Wasted Years, the new record from OFF!. In a world  where Henry Rollins delivers awkward stand up comedy and appears on Ru Paul's Drag Race (What the fuck right?), where Black Flag are putting out cringe-worthy albums (see last years What The…, the album title says it all), be thankful that we still have Keith Morris.
Even though FLAG (A touring version of Black Flag that weren't allowed to call themselves Black Flag, featuring Morris on vocals) have no plans for an album, we have still have a great throwback to 80s hardcore punk in the form of OFF!, the former Black Flag and Circle Jerks frontman's latest stamped of punk rock rage. In very basic terms OFF! sound like a combination of Black Flag's aggression with Minor Threat's rapid, blunt song-writing. Their debut was breath of fresh air despite their obviously old school sound, it's great to hear a legend from the birth of hardcore staying true to their roots.
Whilst Wasted Years doesn't offer much that OFF's debut did not, it's still more balls heavy hardcore that sounds like it's straight from 1984. The songs on this record are longer rounding up to about 24 minutes of frantic anger, about 10 minutes longer than the debut (10 minutes can fit in like 8 OFF! songs, so that's a lot). The added length is due to a heavier focus on the instrumentation, specifically the riffs. Guitarist Dimitri Coats is much more prominent on this record, delivering some of the catchiest yet trashiest riffs to be heard in the genre for years.
This isn't a nostalgia album to help relive the past, it's a punk veteran showing that he, and the music style of music he plays, is still as great as in the glory days. They say you can't teach an old dog new tricks, but Keith Morris clearly doesn't give a fuck about new tricks. OFF! just want to keep playing music that gives us that punk rock boot-up-the-ass. This 'old dog' still has plenty of bite.
Wasted Years is out now via Vice Records.