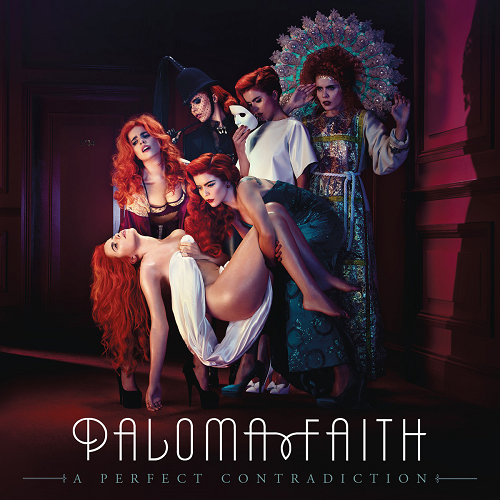 Paloma Faith's latest album, A Perfect Contradiction, is exactly what the name suggests. Prior to this release, her music focussed solely on that beautiful, pure voice that has gained her so many fans. This album, however, combines this incredible voice with big-name collaborations and big-band style backing tracks. As an extra special treat, the deluxe version of the album even features four more stripped back versions of the tracks: it's Paloma as you're used to hearing her – just an incredibly soulful voice. This is the most powerful you will ever have heard Paloma Faith, and it's really quite excellent.
Featuring Pharrell Williams, opening track 'Can't Rely on You' really sets the bar high. To open with such a collaboration seems a brave move, but it's executed perfectly. Come the third track – entitled 'Take Me' – Paloma Faith has every single one of her listeners wishing those two words were for them. The girl has serious talent and this album really shows that, both energetically and vocally. Think Aretha Franklin's 'Respect' and you've got a similar sound and feel.
Later in the album, 'Taste My Own Tears' presents itself in all its spine-tingling magnificence. There isn't really a song on the album that stands alone above the rest in terms of quality: each and every track is extremely well produced and balanced and they act – as all good tracks should – to showcase the majesty of their performer. In describing Paloma Faith, 'majestic' doesn't even come close.
Soon after, 'Love Only Leaves You Lonely' adds a beautifully melodic element of refrain to the album. Far slower than the tracks that come before it, and featuring a backing that is a simple, uncomplicated mix of drums beats and faint bass-lines, the track focusses itself wholly on Paloma's special and unique voice.
The additional tracks featured on the deluxe edition – which include an amazing 'exposed' rendition of 'It's The Not Knowing' – scream summer vibes. If music were to work in the same way as fashion, this album would be at the very height of the Spring/Summer collection of 2014. It's the sort of thing you'd blast through a stereo at a summer barbecue: relaxed enough to act as background music, but energetic enough to kick any party off to a start. This may just be the best album Paloma Faith has ever produced. It's truly remarkable.
A Perfect Contradiction is released 10th March via Sony Music.