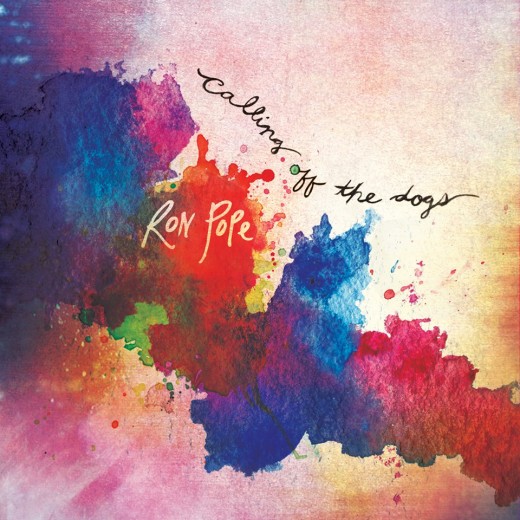 Released on 10th February, Ron Pope's newest studio album Calling off the Dogs sees the American singer-songwriter pushing the boundaries of his musical talent. He shows us just how diverse he can be, both lyrically and stylistically; employing a wide range of musical techniques. For a guy who writes, composes, records and produces his tracks – all whilst managing his own musical career – you've really got to hand it to him: he's got some serious talent, and the respect generated by his sheer dedication is surreal. This latest release seems to draw influence from the likes of Bon Iver and Ben Howard, and the results are really rather good. Packed with emotionally driven lyrics and synthesised melodies, Calling Off the Dogs really grows on you as a work in its entirety; your ears will be greatly rewarded.
On a first listen, 'Silver Spoon' may sound a little familiar; the introduction to the song sounds extraordinarily similar to Dashboard Confessional's 'Stolen'. Fortunately, there will be no law suit here – when the lyrics, synths and drums replace this piano riff, Pope's vocal style shines through. 'Silver Spoon' is quite an odd song, stylistically. It seems to blend a lot of genres together. This amount of merging of styles could be messy, but Pope really comes into his own.
The seventh track of the album – entitled 'Nothing' – is recorded as a duet and features an truly unique and beautiful female voice in Alexz Johnson (who has just finished touring alongside Pope on his 'Calling Off the Dogs album release tour'). The pair's voices, although seemingly very different to each other, blend perfectly. Opposites really do attract, it would seem. Think a more soulful 'Set Fire to the Third Bar'. With the lyrics telling a tale of a broken down relationship, Pope's choice of strong female vocals is an incredibly powerful decision. Beautifully moving.
A true highlight of this album is, as previously stated, Ron Pope's ability to blend musical styles within his tracks. 'Back to Bed' is a great example of this. Incorporating themes of addiction, love and how the two interweave, the track showcases the very best that Pope has to offer. If you want a feel for the album before you buy it in its entirety – which you really should – this track comes highly recommended.
Calling Off the Dogs is an exquisite release which will guarantee Pope British success to accompany the already huge US accomplishments he has racked up in the past. Maybe, just maybe, this could be the album everyone remembers when Ron Pope's name is spoken: his best work to date.
Calling off the Dogs is released on 10th February.