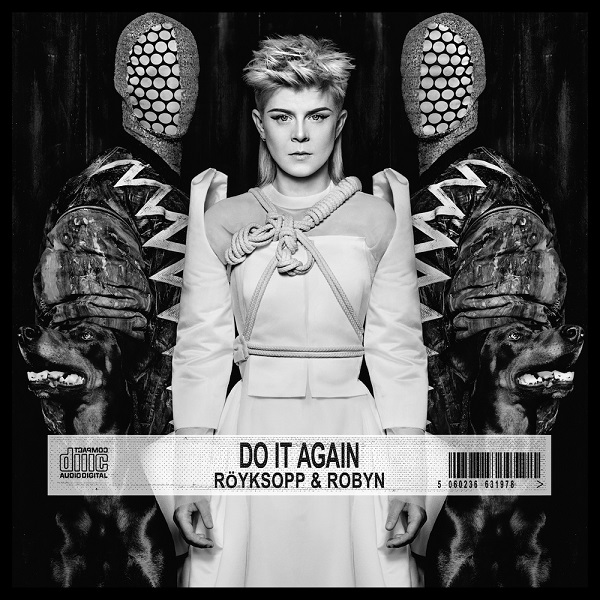 Scandinavian electro-pioneers RÖYKSOPP have teamed up once again with ROBYN for the release of their new mini-album, 'Do It Again.
Their previous collaboration, 'The Girl & The Robot, was an immediate and aggressive piece of electro pop, whose echoed synth and dramatic instrumental combined perfectly with Robyn's vocal. This album takes on a similar tone, with the first momentous track, 'Monument', lasting almost ten minutes. Although its chilling instrumental hook is suitably epic, juxtaposed as it is against Robyn's artificial, hypnotic vocal chant, at seven minutes in you feel things begin to drag, as the ever-anticipated crescendo fails to materialise.
'Say It' would have been at home on Robyn's last LP; its huge techno intro would surely whip any crowd into a frenzy, but the old school house beats queue a bizarre dialogue between the Swedish songstress and her robot. This could be a sequel to their previous single, and is a great introductory track for their upcoming tour.
'Every Little Thing' is more melodic and the fractured, vibrating synth coupled with Robyn's vocal, make heartbreak danceable. The chorus involves the same hook, delivered in a disjointed manner, with layers of vocal cries and further synth lathered perfectly over the top. Title track 'Do It Again' is probably their furthest foray into pop territory, an intelligent piece of house music merged with the conventions of Scandinavian electro that have made the niche so popular both Stateside and here in the UK.
'Inside The Idle Hour Club' closes the album with another mammoth ten minute effort, as the duo manage to make sparkling synths feel somehow melancholic. A track made to showcase's Röyksopp's ability as producers of electro, it finishes the album nicely, but isn't the most engaging piece of music.
This pairing has been on the cards for years, and while it delivers in most respects, the element of collaboration could have been explored further. With Do It Again coming in at just five tracks long (and half of that is instrumental), it feels like only on the likes of 'Do It Again' do they really begin to show what they really can achieve. Another track following the same formula of 'None Of Dem' is all this mini project needed to elevate it from a great project to an exceptional one.
Do It Again is out now via Dog Triumph/Wall of Sound.