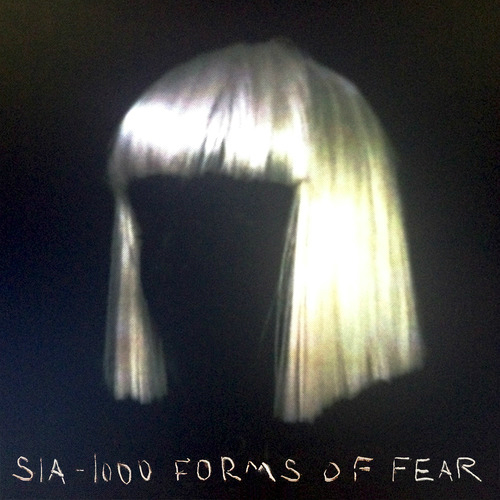 There are many things that can be said about Sia Furler, but to say that she doesn't have friends in high places most certainly is not one of them. Since her last LP, 2010's We Are Born, her high profile collaborations have lifted her name in the charts higher and higher. After impressive work with artists like Flo Rida, David Guetta, Tegan & Sara, Ke$ha, Katy Perry, Celine Dion, Beyonce, Kylie Minogue, –gasp for breath –Lea Michele, Rihanna, and many more, she has finally recorded her sixth solo record, 1,000 Forms of Fear which is due to release 8 July.
1,000 Forms of Fear, which opens with the album's previously released 'Chandelier' follows in suit of the lead single with a slew of sobering anthems. The record sees Sia blend the emotional cinematic air of 2008's Some People Have Real Problems with the quirky dance pop attitude of We Are Born. The result is a fuller sounding serious pop album aimed for the charts. This isn't to say that 1,000 Forms of Fear is mainstream garbage, though. Electronic drums and synths keep the power of the album as high as you would expect in the heat of her mainstream invasion. As one of the strongest females in the music industry at the moment, Sia writes music that rips your heart out and tosses it onto the table, all the while making it impossible not to sing along. Despite her high profile friend list, the only track on the album to feature another artist is 'Elastic Heart' which was recorded with Diplo and The Weeknd for the Hunger Games: Catching Fire soundtrack.
Tracks like 'Straight for the Knife' and 'Fire Meet Gasoline' ensure that the album digs deeper, emotionally, than the fun and quirky We Are Born. Produced by Greg Kurstin at Echo Studio in L.A., the Australian singer's vocals are as daring as ever. Intense string accompaniment provides the cinematic element that is vital to her unique atmosphere. The intensity of her music carries equally through the album, finishing with the dramatic and upbeat 'Dressed in Black'. Sadly, her roots in trip-hop are completely lost on 1,000 Forms of Fear, and the unique sense of fun that she has pioneered throughout the years is masked by heavy solemnity. It can only be assumed that either record label pressure or too much time around pop stars has made this influence on Sia's latest music, and we can only hope it's a temporary thing.
While 1,000 Forms of Fear is brimming with emotional mainstream ballads, Sia's voice and powerful lyricism makes it impossible to judge too harshly. It's potential for "great" is regrettably reduced to plain ol' "good," however in this case we might mark it up to "Damn good."
1,000 Forms of Fear releases on 8 July through RCA/Monkey Puzzle Records.