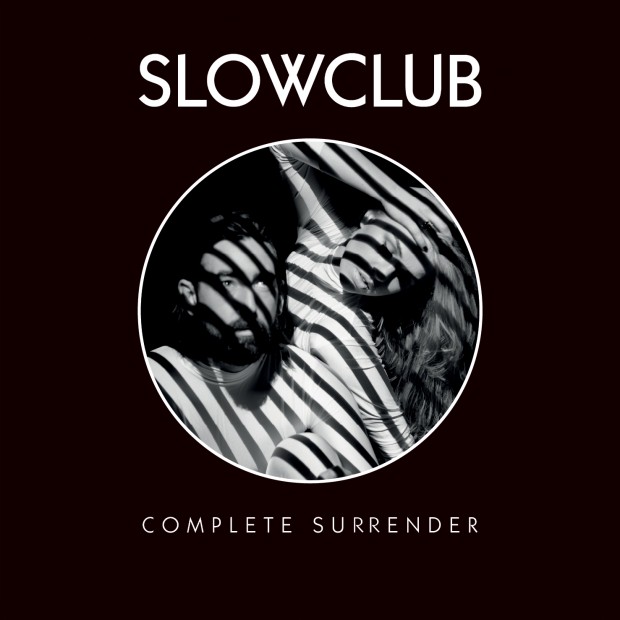 It feels strange to think that Slow Club have been doing their thing together for around eight years now. Back in 2006, music was going through quite a diverse shift in what was considered popular – yes, it was the year that Akon released 'Smack That', but it was also the year that the internet started having more to do with what we listened to. So the Arctic Monkeys were gaining momentum, and bands like Keane were getting much more recognition than they would have perhaps five years earlier, or five years later.
Slow Club fitted in with the Noah And The Whale zeitgeist sound that was on the rise at the time – twee, cutesy and quirky, ukulele-in-hand kinda situation. When it comes to their new album, Complete Surrender, will they have stood the test of time?
The album begins with 'Tears of Joy' – a totally unexpected sound, it's very glitz and glamour, 1920s jazz bar. There's still a hint of that cutesy quirkiness with the beachy, Hawaiian-sounding, echoing guitar that floats effortlessly over the top. 'Everything is New' is lovely and calm, almost graceful; it's got a wistful kind of feel to it, and when it all gets a bit heavy towards the end and the violins weep over it all, it is really quite emotional. The chord sequence is beautiful; this one will be a favourite.
'Suffering You, Suffering Me' starts off with that slow blues thing, but then at 1:00 it suddenly gets really energetic and it's more like the 60s. Sadly, it doesn't quite feel right and would have maybe been better as two separate tracks. It just doesn't fit in and totally opposes the graceful sweetness of the previous track. 'The Queen's Nose' is back to the slow, beachy feel and has an emotional last third, emphasised by brass instruments – although Taylor's vocals unfortunately sound slightly wailing at some points, which is a shame.
'The Pieces' is a slightly more up-tempo track and a bit of fun, immediately quelled by the sombre mood of 'Number One'. 'Not Mine To Love' is, in all honesty, a little bit boring by comparison. Title track 'Complete Surrender' begins with drums only, maintaining a good rhythm throughout. The chorus is a bit lacklustre, but the whole track has got a driving force behind it which is aurally interesting. 'Paraguay and Panama' is again a totally different style to the previous track, slow and melancholy – there just isn't enough consistency with style and genre. It's a lovely emotive track, but it has no place next to the previous one.
'Dependable People And Things That I'm Sure Of' shows off Taylor's voice to much better effect; when she isn't singing loudly and high, the tones in her voice can really shine, and match her emotional lament to the demise of a relationship. Final track 'Wanderer Wandering' is good once it gets into it and fits in with the beachy, chilled feel of some of the previous tracks – it's a nice way to finish the album off.
Overall, Complete Surrender just needs a bit more consistency in the styles of each song – it feels a bit choppy, and there's a clear divide of song-writing that just doesn't fit together. It's like two albums from two completely separate artists pushed into one. The whole, unfortunately, isn't greater than the sum of its parts, but those individual parts are still well worth a listen.
Complete Surrender is released 14th July via Caroline.