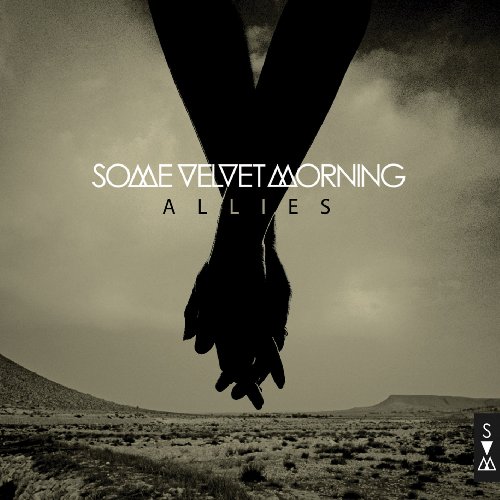 Some Velvet Morning are on the 'comeback trail' and are firing all guns blazing. The album moves on from debut 'Silence Will Kill You' but keeps the raw vocals and distinct guitar lines. Desmond Lambert holds a rather modern and distinct Rock 'N' Roll voice in recent single 'How To Start A Revolution'. The opening riff of the single sounds like the glorious mash-up of Supergrass and the White Stripes. This lends itself nicely to the rest of the record. Keeping on the whole rather upbeat and ready to rock.
Opening track 'Unterbrechen' is a twist though, starting off all glorified and glamourous, being string laden and choral, my only qualm was it faded out instead of being segued into '…Revolution'. "Beautiful Dress' and 'Resistance' follow on the pattern of high energy stomping riffs. The backing band of Rob Flanagan on drums and Gavin Lambert on bass combined with Desmond's heavy guitar riffs are what make the band. They have a sound which as previously mentioned remind me heavily of Supergrass and the White Stripes, but there are influences from other contemporary artists such as; Manic Street Preachers, The Charlatans and Oasis to name a few. This is not a bad thing at all, but certainly highlights how the music industry has shifted in the last 10 years from indie stalwarts and guitar favouritism through to the modern 'pop' culture.
Title track 'Allies' is a roller coaster of emotions, a call to arms type of track. The lyrical content is incredibly poignant and makes you sit up and listen. The track ends too soon, but fear not as there is a reprise in the last but one track on the album. Shifting the track along in a small gear, when played back-to-back it makes an epic sounding song. Previous single 'Don't Think' is also included on the record and is heavily influenced by New Order/Joy Division. You have most likely heard this down your local indie club at a weekend. 'NY City Hell' is another strong album track but it is the album closer 'The River' which settles the dust perfectly. It is not very often that there is an album closer that instantly makes you want to jump back to the start and go on the ride again, but the subtle guitars along with Desmond's raw vocals do just that.
Look out for this band either on festival line-ups or their own tour dates because I can imagine they will put on one hell of a show!