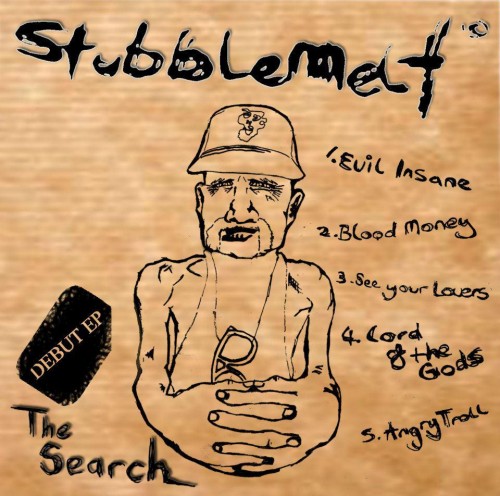 Local lads Stubblemelt have spent the last few months gigging hard and working on their debut ep. Full of fresh talent and a myriad of guitar hooks and interesting vocals. Opening track 'Evil Insane' seems to build up and ends up being a sublime beast. 'Blood Money' starts off quite gently and suddenly explodes into a hybrid of rock riffage and genesis style backing vocals. There is some great instrument playing on this ep, Mat Giles' lead guitar work is expressive and mesmerising.
Kyle Perry's vocals hold the tracks together, they're good enough to grab attention and pull people in. You must remember that these are young guys in their infancy and for a debut record this is exceptional. The ideas on here and the quality overall are brilliant. My only gripe is in the actual recording, across all tracks, I think the rhythm section from Tom Marshall on bass and David Ashford on drums are too low in the mix. Finally the recent addition of Chris Payne on synths and electronics is the missing piece of the jigsaw, pulling all the sounds together and presenting the outcome as a perfect package of sounds. I hope for the next ep/album/single, there can be some more emphasis on them. 'See Your Lovers' in particular is missing that great driving pulsating thump from the drums and bass which could really propell the song along. Vocals are perfect in the mix, guitar maybe a little louder too.
The quality of songwriting is fantastic. As the ep progresses and we get towards the final tracks, it sounds like the guys are relaxing. 'Lord of The Gods' has a classic Rock type title and sounds just as epic. The mix is sounding better but in comparisson it all sounds quite low, even the vocals. This track would sound mega live and hopefully is a staple of their live sets. The solo would tear a room apart when this is in full flow. You just need to close your eyes, see a dark smokey room and as the song crashes to an end imagine them in full flow.
The rolling drums and bassline of closer 'Angry Troll' are a great intro before the full throttle of guitars pick up. Vocals come in and this is probably the most 'sound perfect' track. The rock riffing and almost rapping of the middle section are sublime. EP highlight for me. Great closing track for the record and really does make you yearn for more.
A very promising debut from these young lads and hopefully a band we'll see more of in the future! I am very excited to see what else comes from these guys. The fact that the last track is so different from the rest shows they have potential to experiment, and are not afraid of it. I see echoes of early Lostprophets and even as far as Linkin Park, Iron Maiden and the mighty Sabbath coming thorugh from this ep. Whatever is next for the guys, be sure to check them out!
Befriend the guys on Twitter, Soundcloud and visit their official site.