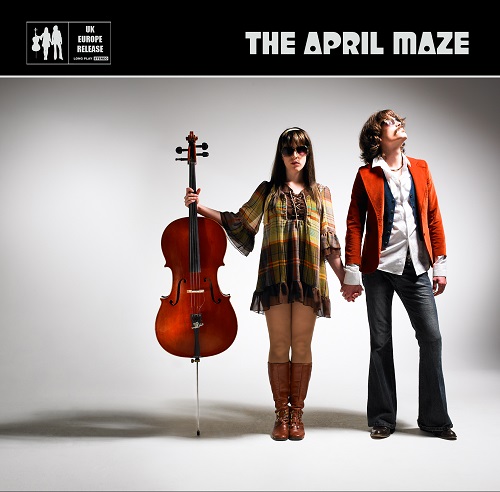 Australian folk duo The April Maze couldn't sound more nostalgic if they tried. Their rich and bluesy UK debut isn't so much infused with the sound of 70s folk as tie-dyed with it, and while it may leave listeners feeling like they've picked up an old bootleg rather than a brand-new album in 2014, that is no bad thing. Pulling together tracks hand-picked by the pair from their two previous albums (released only in the Antipodes), their eponymous album The April Maze is about as close to the real thing as any contemporary musicians are going to get.
Opener 'Will I Ever' is a melancholic mixture of downbeat, harmonized vocals, soaring strings, and a heart-breaking banjo accompaniment. In stark contrast, the following track 'Oh Yesterday' sounds like an Imelda May cover, its powerful, bluesy rhythms and Sivan's soulful vocals giving it a driving sense of forcefulness that rarely raises its head on the rest of the album. Only 'Don't Let the Bastards Grind You Down' maintains this sense of impetus and pace, its gang vocals and rousing acoustic guitar work beautifully matched by the cellos that provide further emphasis on the song's most euphoric moments.
It's on slower tracks, however, that The April Maze are at their most arresting. 'Winter', with its boy-girl vocals and deeply personal lyrics, is one of the most affecting songs on the album, reminiscent of the likes of The Civil Wars and Ryan Adams. 'Saltwater' is equally powerful, as the band return to the plaintive banjos and stripped-back acoustic arrangements of the album's opening. Sivan's voice loses the harder, rock'n'roll edge she used to such full effect on the album's pacier tracks, instead opting for a poigniantly restrained vocal melody as she sings, "Stop looking at me. I can feel my face, it's turning red. And stop feeling for me, it will all go to my head". It's easily the most beautiful song on the album, and perfect fodder for that coveted season-finale music slot on any US TV series.
Alongside the range of original tracks taken from The April Maze's two previous albums are several cover versions, including The Beatles' 'I've Just Seen a Face' and 'Two of Us', and The Hooters' classic 'And We Danced'. Their version of the latter strips away the quintessentially 80s guitar riffs and overblown synths, replacing them with delicately arpeggiated chords and smooth, harmonized vocals.  Adding a warm, country swing to their interpretations of these tracks, they fit in perfectly as the coda to their own compositions.
While it would have been nice to have been introduced to the band with their first two albums as-written, the collection of tracks chosen for The April Maze nonetheless exhibit the subtle brilliance of their work. It may not feel particularly modern, but this Australian pair capture the raw beauty and fragility of their chosen genre with such style that they are easily forgiven.
The April Maze is released today.