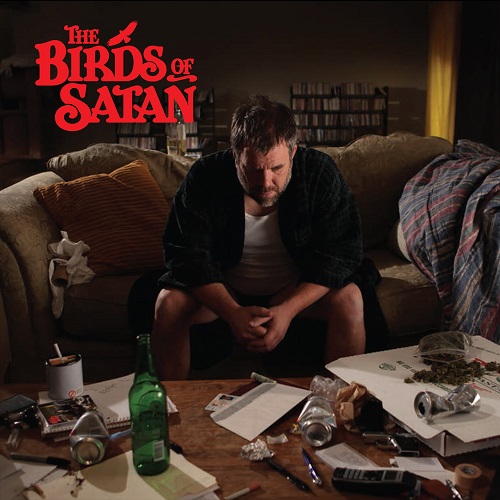 Taylor Hawkins, it seems, just can't stop making music. As well as currently being hard at work on the Foo Fighters' eighth studio album, he's also found time to form The Birds of Satan, a three-piece featuring Hawkins, plus Wiley Hodgden and Mick Murphy of Chevy Metal. Alongside guest appearances from the likes of Dave Grohl and Pat Smear, the group power their way through seven tracks whose diverse influences and styles just about cover forty years' worth of alternative and metal musical history.
Opening with the nine-minute epic 'The Birds of Satan', the band conjure up a surreal, uneasy blend of hard-to-follow time signatures and rhythms, with Hawkins' vocals straining ad roaring over the top. The riffs are heavy, the drums are thunderous, and the relentless pace is sustained over its entire length, making it a far more interesting proposition than a nine-minute, metal-inspired track has any right to be.
Beyond this, the album slips back into a lighter sound, less about shredding guitar solos and closer to the melodic rock that Foo Fighters are best known for. 'Thanks for the Line'  and album closer 'Too Far Gone To See' reflect the classic Foos sound, both in their riff-heavy, rockier moments, and in the acoustic delicacy they developed on In Your Honour.
'Pieces of the Puzzle', while it opens with a bludgeoning kick drum, is instead a brilliantly balanced piece of rock, with a masterful quiet-loud dynamic established between the verse and chorus. Some epic guitar solos are thrown in for good measure, and the end result is one of the most satisfying tracks on the record. 'Raspberries', meanwhile, is a melodic, soothing (by comparison at least) piece of soft rock. It kicks into gear for the chorus, but is otherwise a well-crafted blend of rhythmic guitar picking and understated beats, with Hawkins' gravelly vocals simmering over the top.
If you aren't already a fan of 80s rock and metal, then The Birds of Satan may not sound like your ideal listen. However, Hawkins and co. have created a sound that, while obviously referencing many of their musical predecessors, is also palatable to the casual listener. It's often catchy, always technically accomplished, and above all it's entertaining. From a hard rock album, you can't really ask for anything more.
The Birds of Satan is out now via Shanabelle Records.