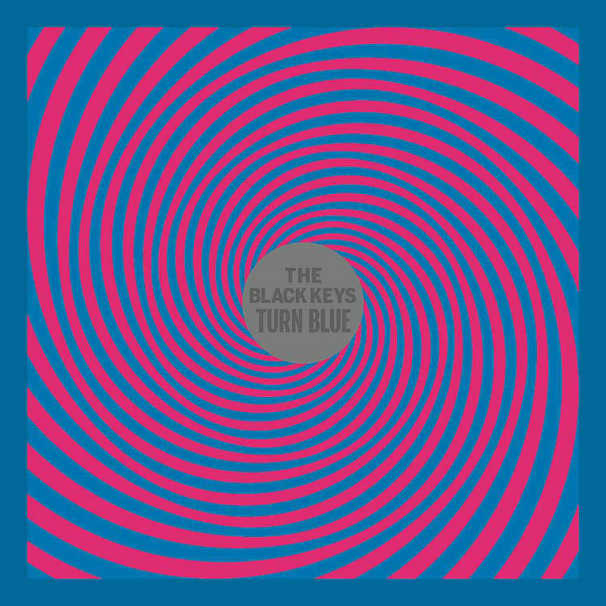 "I used to think that, darling, you'd never do nothing, but you were always up to something" croons Dan Auerbach, Black Keys' vocalist and guitarist, on Turn Blue's opening number, 'Weight of Love'. It's a sentiment that sums up the duo's eighth album quite nicely. Far from doing nothing, Auerbach and drummer Patrick Carney have put out a string of critically acclaimed rock albums since forming in Akron, Ohio, way back in 2001. However, it became fairly easy to know what to expect from their studio efforts; ballsy, bluesy rock with hooks and riffs aplenty. One listen to Turn Blue, and it's clear that, in their down-time since 2011's El Camino, they've definitely been up to something.
Turn Blue sees the Black Keys at their most experimental, assured enough to slow the pace down and allow the songs to speak for themselves. While the rock'n'roll and blues influences, of course, are still dominant, they're given unexpected twists by the new sounds that have forced their way into the mix. 'Weight of Love' carries an atmospheric, Spaghetti-Western undertone, while 'In Time' uses pianos and horns to add a swing vibe that nestles nicely alongside the roughly muted guitars and jangling riffs. Title track 'Turn Blue' has an almost lounge-jazz feel, the guitars losing their distorted edge in favour of some clean, reverberating chord picks, with Carney's drumming stepping back into a cool, understated rhythm that emphasizes this relaxed sound.
Recent single 'Fever' is probably the most instantly recognizably 'Black Keys' track on the album. While the insanely catchy hook has been switched onto keys, rather than adding another razor-sharp guitar riff to their collection, it's nonetheless a thundering concoction of bass-heavy drumming and choppy guitar chords, with Auerbach's distinctive vocals of course leading the way. 'It's Up to You Now' also reverts back to the normal Black Keys formula, its heavily overdriven, almost synth-like guitar riffs perfectly complimenting the melancholic frustration of the lyrics, while Carney rolls and rumbles his way throughout the track's primal rhythm section.
It's rare, however, on Turn Blue, that the pair work themselves up to the kind of rock'n'roll frenzy fans might have been expecting. Instead, their tone is often sombre, more reflective. The pace is slower, the solos carry the emotion to match the impressive fretwork on display. On '10 Lovers', for instance, the guitar riffs are perfectly laid out across as backing of smooth, funk-influenced rhythms and raw, vulnerable lyrics. "Don't leave us not in love again, the little girl can't comprehend. She had another dream that her mama's gone. She's alright, but you're all wrong'. As in this instance, Auerbach's recent divorce seems to underpin much of the album's lyrical content, and it makes for a tragic, almost voyeuristic listen.
Turn Blue may not be the Black Keys album that most were expecting, but it's the album that they needed to make. Stepping beyond their usual riffs and rhythms, they've shown that they are also capable of stripping those things away, and revealing the bare bones of what lies beneath. If you were looking for more of the same after El Camino, then the likes of The Black Lips and White Denim might have more to offer. If you're ready to take on the next phase in the Black Keys' journey, then simply hit play and soak it all in. You won't regret it.
Turn Blue is out now via Nonesuch.