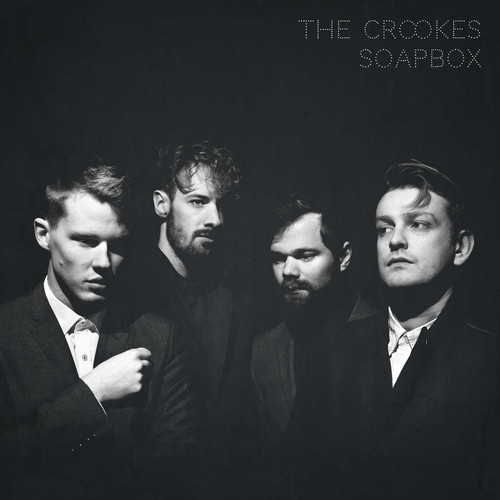 Sheffield indie rockers The Crookes release their third studio album titled Soapbox. So, have they introduced anything new, experimented with synthesizer beats, or added any jazz-fusion? Well the answer is – no. It strangely enough sounds like another indie rock album by The Crookes.
This album is clearly not bringing any real kind of innovation into the indie genre as a whole. The band themselves state that they are heavily influenced by 1950/60's pop music and groups that are themselves motivated by movements such as the 'kitchen sink' realist art films from the 50's – bands such as The Smiths and Pulp, to name a couple. Of course if you are to be inspired by era-specific music from 50+ years ago, you're probably not going to be an overly original outfit. As obvious as this is after you've listened to Soapbox even just once in full, it doesn't stop it being fairly well written and performed, and overall a pretty decent release.
The truth of the matter is if you are an avid fan of twenty-first century indie bands such as Badly Drawn Boy and Bon Iver, you're most likely going to enjoy this record. If you were hoping that The Crookes would take a more dangerous direction and go somewhere completely out of their comfort zone with this new album, you're out of luck. It sounds like the last two studio releases. It has better production then Chasing After Ghosts and Hold Fast, but overall it's musically and stylistically very similar. It's a very safe choice.
On a complementary note, there are definitely songs on this album that have enough going on for one to delve deeper in. The track 'Howl' has a middle 8 that almost reminds one of some of the more ballad-esque songs by The Gaslight Anthem and also certain verses of the closing song 'Soapbox' that sound like they're taken straight from the rockier numbers of Dinosaur Jr. The song 'Before the Night Falls', a bubbly and fun addition to the record with its fast paced rhythm guitar and strained, quintessentially British vocal hooks, almost makes it sound as if the Arctic Monkeys recorded it.
Although Waite's vocals are top notch on this record, and Bates' drum playing is perfectly adequate, they both get overshadowed by the true MVPs, guitarists Tom Dakin and Daniel Hopewell. The best part of this album, certainly after you listen to it through a couple of times, is the guitar sound. Combined with the production – the riffs in particular just sound like they were recorded in a garage. Where indie is concerned, the dirtier the album production is, the better!
Ultimately, Soapbox is a safe but nevertheless satisfactory record. It's a collection of good songs that wouldn't sound out of place on most UK radio stations. Even though the lyrics aren't exactly brilliant, there is enough of a show of musicianship and talent from all the members in the song writing and performances to make it worth while, and not just another unexceptional indie rock album to be forgotten and thrown into the figurative abyss.
Soapbox is out now via Fierce Panda/Modern Outsider.