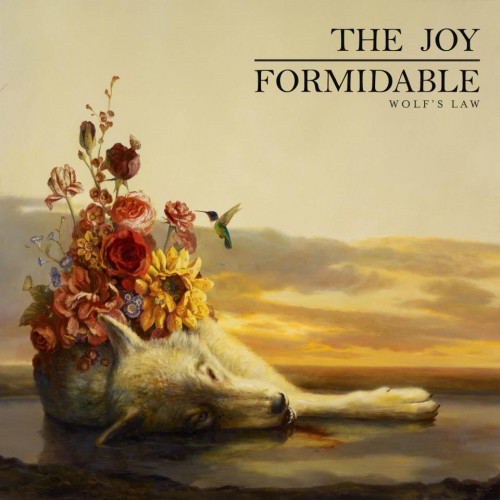 After the perfection of the debut album 'The Big Roar', the rising Welsh stars The Joy Formidable have been hidden away in Maine, Portland recording their second album. I for one have been anticipating this record in the hope that they would be able to continue the raw power and the excitement that they gave us the first time round.
The first track to be debuted from it is the sublime 'Wolf's Law'. Starting with a gentle piano and Ritzy's sublime vocals asking us to "Tell me where you've been", the question is already asking whether this is a new direction? Have they gone all mellow and acoustica? roughly 1 minute and 12 seconds in we get the answer. The pace starts to build up, the drums rise in and there is a subtle orchestra arriving. It has elements of that classic late 90's Welsh sound that the Manics favoured. It sounds quite simply glorious.
As the vocals kick back in, Ritzy has shifted up a gear and is sounding like classic era Catatonia over Manic Street Preachers soundscapes intertwined with a subtle electronia hint underneath. It is a world away from the raucous rush of the likes of 'Whirring', 'Abacus' and 'Austere', but works so well. By the time the track ends at nearly the four-minute mark, you want more, I have repeated the song nearly ten times already since it's grand unveiling at midnight tonight.
As a taster for the album it leaves me with no hesitation that it will be fantastic. They sound like a band ready to take the world, to bring back that 'Welsh' sound to the charts, and to ride that wave with confidence. That is the key word here, they are confident and it comes across. I cannot wait for more and for a full scale tour to reach the shores. Anyone seeing them at Reading & Leeds this weekend will be in for a treat. Catch them now, with the likes of Huw Stephens championing this track up after his exclusive unveiling, these Welsh troubadours are here for the long run. Simply stunning return.