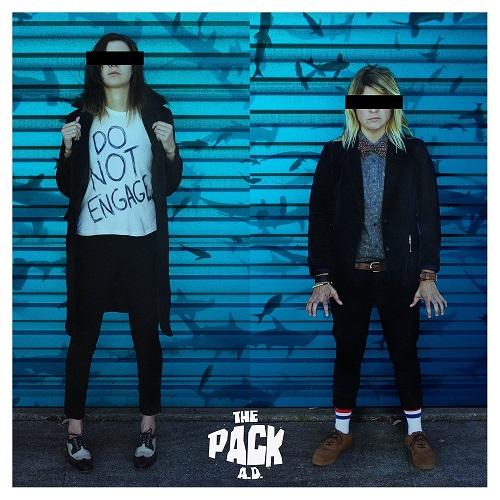 Canadian duo THE PACK A.D. are one of those rare all-girl combos whose gender seems, at least superficially, to be completely irrelevant. Listening to their viscerally melodic new album Do Not Engage, 'girly' is probably the last adjective that springs to mind.
The White Stripes and The Black Keys are probably a closer match, names that naturally jump out when you're asked to name quality guitar-drum rock duos; there's certainly no doubting that Becky Black (guitars/vocals) and Maya Miller (drums) are a powerhouse of the fairly recently emerged genre. Do Not Engage builds on the solid rock foundations of their previous efforts, pulling influences from every direction and throwing them into a buzz-saw blender of scuzzy riffs and pounding drum lines.
Opener 'Airplane's hazy drone immediately throws you into their dark and distorted world, as Black's understated, repetitive vocal melody drops in over a background of relentless overdriven chords and crashing rhythms. Follow up 'Big Shot', with its acerbic lyricism and simple but brilliantly effective riff/power chord combos, feels like a garage band version of Weezer, if they were more concerned by everyone else's inadequacies, and not simply their own. 'Well you're a jerk. Quite a piece of work. I think it's fun that you're so dumb";It may not be complicated, but it gets the point across.
With 'Animal', the band's bluesy influences start to make themselves felt. From its opening, sliding riff, the song possesses a bestial swing that typifies the tracks that follow; 'Creeping Jenny' with its almost psychedelic vibe; 'Battering Ram' and its Jack White-esque chord riff, and Miller's seeming nods towards Meg's distinctive drumming style with her simple beats and crashing cymbals on the chorus.
Do Not Engage isn't all about thrashing rock and roll, though. 'Loser' rises and falls around a centerpiece of gentle, washed out vocals and clean, simple guitar lines. "I'm alone because I chose to be. So when I'm lonely, I have nobody to blame but me. I do it to myself". It's brutally confessional stuff, harshly emotive while avoiding the pitfalls of rampant self-pity.
As the album comes to a close with the brilliantly understated 'Needles', it takes a moment for the full effect of Do Not Engage to hit home; without even batting an eye, The Pack a.d. have thrown together an album whose contrasting moments of aggressive musicality and delicate vulnerability instantly grab you by the scruff of the neck, and force you to take notice.
It's a brave decision to slow the pace down as the record reaches its final few tracks. However, the confidence the talented pair show as, layer by layer, they strip away the fuzz to reveal one of their most vulnerable tracks to date, is all the more mesmerizing for it. An accomplished and hugely enjoyable album, Do Not Engage will most definitely have you locked on.
Do Not Engage is out now via Nettwerk.