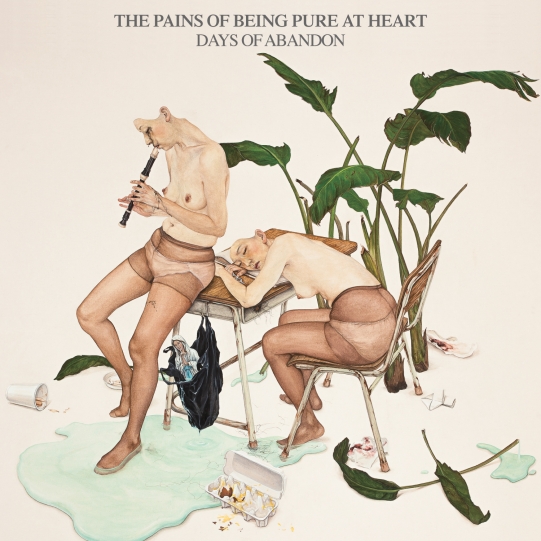 The 80s gave the world many things. Transformers. Sonic the Hedgehog. Judd Nelson's floppy hair-do. But, of course, one of the main things it left behind was an incredible musical legacy. From pop to rock to hip-hop, some of the biggest names in music history emerged in what was to be a truly astonishing ten years for music. In their latest album Days of Abandon, New York noise-pop quartet The Pains of Being Pure At Heart hark back to those influential ancestors in such a way that, while it doesn't feel completely derivative, it nonetheless comes across as a pastiche of just about every band that came before.
Days of Abandon gets off to a promising start with 'Art Smock', a delicately structured song replete with shimmering guitars and boy-girl vocal harmonies. These harmonies are the keystone around which the rest of the album is built, providing a warmth that remains constant in the choppy waters of the various styles that wash around them. And there are plenty of styles in there. While the band's influences have always been relatively apparent, on Days of Abandon they become impossible to avoid. 'Kelly' has an instantly catch pop swing that Wham would be proud of; 'Until the Sun Explodes' sounds uncannily similar to The Cure's 'In Between Days'; 'Masokissed' and 'Life after Life' have all the self-reflective lyrical content and undulating guitar riffing of The Smiths in their prime; 'Simple and Sure' could have slotted into just about any John Hughes movie soundtrack. They're all catchy, all easy on the ear, and have nothing inherently wrong with them, but the similarities are a little too close for comfort.
Of course, there are moments when the band's sound strays away into more modern territory. 'Eurydice' is a riotous, rollicking pop song, from the beauty of its simple but utterly infectious Los Campesinos-esque chorus, to the climax's Arcade Fire-like crossed vocal melodies and wall-of-sound build-up. Even in these moments, it seems, the band struggle to really settle on a distinctive sound of their own.
Days of Abandon is an enormously enjoyable indie-pop album. If you're already a fan of all things 80s, there's plenty to love, but it probably won't be anything you haven't heard before. TPOBPAH are obviously an immensely talented band, but with this latest effort, they perhaps pay too much credit to those influential predecessors, at the expense of forming the coherent sound that seemed to come more easily on their previous records. It's nothing that would prevent anyone enjoying this album, but it's as likely to send you off in search of 80s college rock compilations as it is the band's own back catalogue.
Days of Abandon is out on June 9th via Fierce Panda.