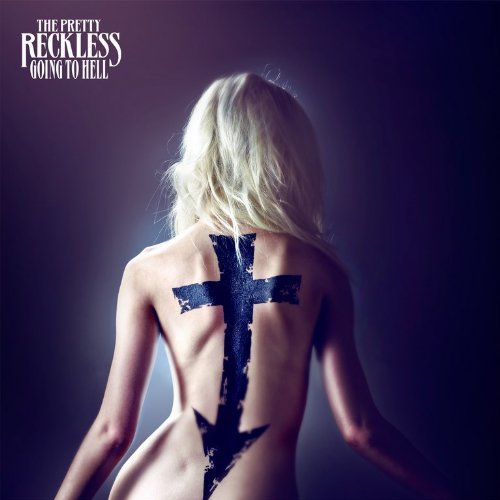 Opening with a sound loop that fans can only hope is Taylor Momsen, Going To Hell marks the long-awaited return of The Pretty Reckless. And they certainly haven't lost their touch!
From start to finish the overall sound of the band's second studio album is extremely similar to that of their debut, Light Me Up. The production and the balancing of this sound, however, has improved greatly. It would seem that The Pretty Reckless have now firmly found their footings in both the UK and US rock scenes and, by the looks of it, they don't intend to go anywhere soon.
Choosing only a few tracks to demonstrate the genius of Going To Hell was an extremely tough challenge. Every track on the album is brilliant, and each has remarkably different musical features from the next. The opener 'Follow Me Down', for instance, is laced with edgy guitar riffs and simple non-harmonised vocal scores, whereas a few tracks in, during 'House on a Hill', Momsen's incredible vocal range is explored through some truly anthemic harmonisation. The diversity of The Pretty Reckless really shines through throughout this, their second LP.
The third track – entitled 'Heaven Knows' – features a call and response chorus during which you can really imagine how insane this track would be to hear live. Simple riffs and basslines support Momsen's voice and a pre-recorded 'audience'. Again, later in the album we are shown yet another contrast in style: 'Sweet Things' introduces us to a far heavier, more hardcore sounding band, with screamed vocals and technically challenging guitar riffs entwined with screeching wah-wah effected guitar solos. Bearing in mind that 'Sweet Things' doesn't even see us reach the midpoint of this album, the track makes for some incredible listening.
'Dear Sister' seems a rather strange track to include in Going To Hell. It's calmer, more full of emotion and less focussed on the hard rock aspects of The Pretty Reckless. In addition to this, it's only a mere 57 seconds in length. It's a really beautiful track and the contrast to the rest of the album really makes it stand out.
'Why'd You Bring a Shotgun to the Party' has to be a stand-out track on the album. It really gets you moving, and the response it provokes is almost euphoric; it makes your hairs stand on end and shoots shivers down your spine.
The album is brought to a close by a track entitled 'Waiting for a Friend'. This is another seemingly odd track. It features a very stripped back, almost folky style of music, with only Momsen's voice, an acoustic guitar and a harmonica. Yes: a harmonica. It's a strange but rather refreshing twist in the story of The Pretty Reckless and this album, as a whole, stands to demonstrate just how diverse this incredible band can be. It's damn near perfect.
Going To Hell is released on March 18th via Cooking Vinyl.