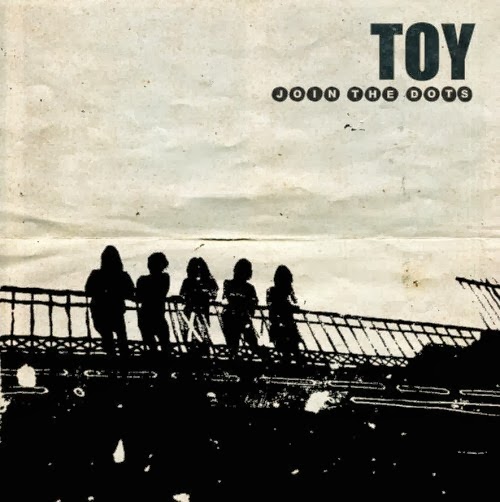 Since dropping their magnificent self-titled debut back in 2012, Brighton psych-rockers TOY have earned a well-deserved reputation for being one of the most creative and engaging acts in the business. Featuring several members of the acclaimed but never-quite-successful Joe Lean & the Jing Jang Jong, it is incredible to see the momentum that has catapulted TOY from absolute unknowns to poster boys of the psychadelic revival in only a couple of years. As with any second album, the weight of expectation for Join the Dots was always going to be resting on their shoulders. Instead of crumbing under the pressure, TOY have risen to the occasion, building a wall of sound as affecting as it is exciting.
The band build on the rich and diverse soundscape they exhibited in their accomplished first full-length, their confidence unmistakable from the opening salvo that is the seven-minute long instrumental 'Conductor'. The song  emerges gradually, building as layer upon layer of rhythms and pulses  are meticulously blended together. Almost soundtrack-like in the epic, robotic atmosphere it conjures, it makes for a dark and brooding first glimpse into the sound of the new record. While for much of Join the Dots the band stay closer to their psych-rock roots, this immersive opener shows not only how much they have developed as musicians, but how brilliant a job producer Dan Carey has done in capturing the sheer scale of their new, more ambitious style of writing.
Following on from this stunning first hand, the rest of the album is exactly what any listener would expect from TOY, only a bit more, well, epic. Title track 'Join the Dots' develops from its haunting opening echoes to encompass a bass line so infectious you can feel it crawling under your skin, the kind that James Murphy himself would be proud of. With every verse and every interlude comes a brilliantly executed change in direction, as the song builds throughout its seven-minute runtime to an apocalyptic wail of distorted guitars, crashing drums and what sounds suspiciously like several planes flying overhead.
On tracks like 'It's Been So Long' and 'Endlessly', however, they hark back to the more pop-friendly melodies that lay buried beneath the scuzzy haze of their debut. In the former Tom Dougall's melancholic vocals rise above the chugging riffs and relentless rhythm section, combining to form a surprisingly melodic and catchy piece of alt-pop. It's by no means a sound that dominates the record, but these flashes of simpler, yet nonetheless brilliant songwriting, provide something of a respite from the more experimental nature of their instrumentation elsewhere.
It may have sneaked in just before the cut-off point, but without a doubt Join the Dots is one of the most interesting albums to be released in 2013. Standing out amongst a sea of folk revivalists and singer-songwriters (who seem to have captured so much of the industry's attention over the last twelve months), it stands as a bastion for the psychadelic revival, one that could well come into full bloom in 2014. With this as their statement of intent, it seems fair to say that TOY are done playing around.