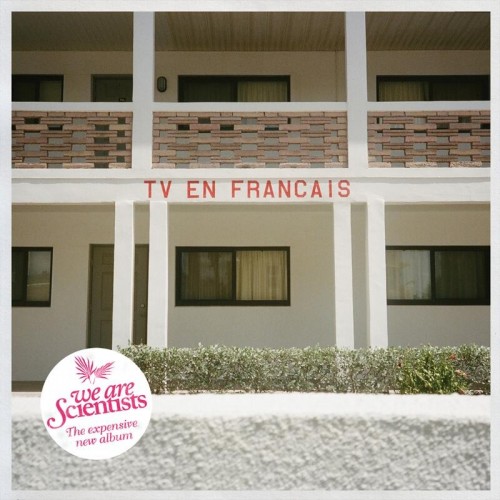 It's hard to believe that Brooklyn geek-pop trio We Are Scientists have been winning over critics and fans with their combination of uncompromising nerdiness and irresistibly catchy tunes for over ten years now. While the band broke into the indie mainstream with their second album, With Love and Squalor, they've since matured into a smoother, tighter indie-rock outfit. The addition of former Razorlight drummer Andy Burrows in 2009 gave them back some of the dancefloor-filling energy for which they're probably best known, and with new album Tv En Franҫais, they maintain their excellent run of form.
For anyone already familiar with WAS, the familiar standards will feel noticeably present and accounted for; prominent bass lines, virtually uninterrupted harmonies, dance-rock riffing and Keith Murray's open and sincere lyricism (a far cry from the band's usual all-pervasive sense of humour). Tracks like opener 'What You Do Best' and closer 'Take an Arrow' feel very much in line with the band's work to date, the latter's blend of euphoric vocals and slightly melancholic intervals providing the album with a suitably epic finale. 'Make It Easy' could slot in comfortably alongside the band's more contemplative moments on third album Brain Thrust Mastery.
There are, however, tracks that push and pull the band's sound in several different directions. Recent single 'Dumb Luck' has opening fretwork so jagged and distorted it feels like it should be the opening of a piece of 80s hair metal, rather than the rousing indie number it eventually develops into. 'Return the Favour' uses its reverberating, single-note guitar riffs to conjure up a sparse acoustic landscape driven by Burrows' pounding drums in its opening two thirds, before the distortion kicks in and transforms the track into something altogether fuller and heavier.
The introduction and verses of 'Overreacting' seems to draw heavily on the dream-pop sound currently presided over by the likes of Real Estate and The Shins, with only its chorus retaining the pacey, rhythmic feel of the rest of the album. 'Sprinkles' is in the same vein, its falsetto opening vocal riffs dropping in and out to give the song a 60s surf-pop feel that doesn't often raise its head in the WAS back catalogue. The chorus, however, is 100% vintage, with its driving power chords and crashing cymbals.
TV En Franҫais is one of those rare albums that manages to perfectly straddle the best of the band's achievements to date, while at the same time developing enough that it doesn't feel like they are simply treading water. While they may have gone all continental with the title, it's hard to imagine anyone struggling to understand this album's arresting concoction of top-notch tunes and stylistic variety. Another brilliant addition to any fan's WAS collection.
TV En Franҫais is out now via 100% Records.
)