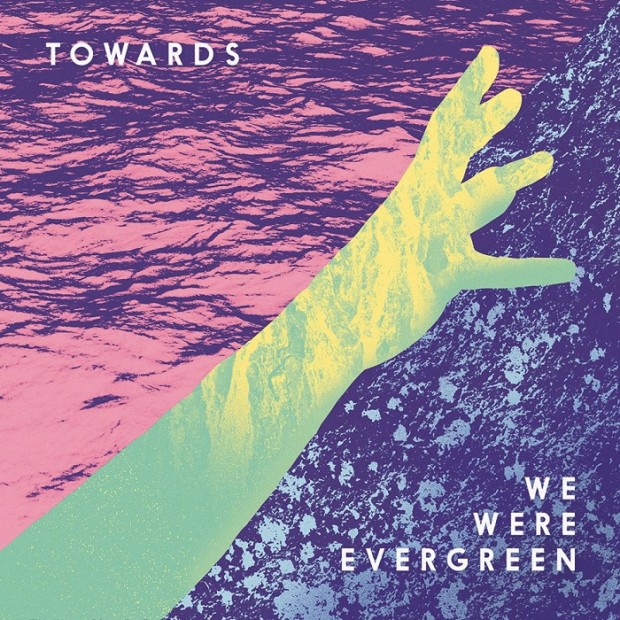 It's been a pretty great 2014 so far for French electro-pop three-piece We Were Evergreen. With a couple of catchy singles under their belt, a supporting role on Goldfrapp's recent and triumphant return to the UK, and now their own headline tour to boot, they've been pretty a pretty busy bunch. Oh, and of course there's the small matter of their really-quite-wonderful debut album, Towards.
Anyone expecting its sound to fall in line with the rest of their music to date may well find themselves slightly disappointed. Instead, what they will find is a strange yet warmly engaging mixture of sounds and styles. From the clattering minimalism of 'Daughters to the calypso charm of 'Tambourine Like a Crown', it's the perfect indie album for sunny days and warm nights.
While at times their style is a little too reminiscent of the likes of Two Door Cinema (whose gentle but irresistibly catchy vocals seem to have had a pretty big influence on lead vocalist…), for the most part the band move beyond these sounds, mixing them up to add an unexpected edge. 'Belong', in particular, has a definite TDCC Second Album vibe going on, from the indie-tastic arrangement to the chorus' lyrical reflections, asking that the listener "come on and put me, right back where you found me, I don't belong here". However, the addition of William Serfass' primal tom rhythms give it the kick that propels it into becoming something that truly makes you sit up and listen.
'Antlers' and 'Best Thing' with their reggae-tinged rhythms and hook-filled bass-lines, seems to be leaning towards the highly strung exuberance of Vampire Weekend, the former's dreamlike chorus adding in a dash of The Shins for good measure.  'Quicksand' veers off in an entirely different direction, the vocals becoming more subdued and the rhythm section stripping back to almost nothing. In comparison to the dreamy pop presented in the rest of the album, it's one of the darker, more thought-provoking moments to be had, and it's an interesting listen (although one that could perhaps have had more impact towards the album's midpoint).
'Kilmore's End' has a gentle boy-girl vocals and twanging, country guitar lines, making it one of the album's most surprising tracks. It's a simple but beautifully constructed piece, and in amongst so many songs whose elaborate production and overdubbing is inescapable, it's a refreshing moment of respite that builds to a joyously ethereal climax' Album closer 'Eighteen' is even better, a blues-y blend of wrought harmonicas, subtle guitar licks, and Fabienne Débarre's angelic vocals  sitting squarely at the centre of the mix.
While the comparisons with other artists are too frequent and too obvious for this to feel like an incredibly original album, there's no doubting that We Were Evergreen have managed to cherry-pick the best qualities of their peers, and channel them into an album as catchy and energetic as it is well-executed, as enjoyable as it is understated. There's plenty on Towards to keep indie and electro-pop fans amused, rest assured, and with talent like this, it's easy to see that there's even better to come.
Towards is out now via Island Records.