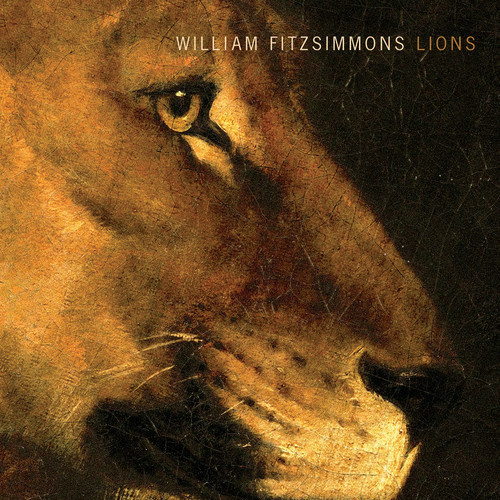 It's been a roundabout route that Pennsylvania-bred singer-songwriter William Fitzsimmons has taken to reach his sixth studio album, the profoundly beautiful Lions. Self-recording his first two LPs at home in his bedroom, Fitzsimmons trained and worked as a mental health nurse for several years before becoming a full-time musician. Known for his deeply personal and revelatory writing style, Lions is his first full-length release since 2011's Gold in the Shadow.
Listening to the album, it's easy to understand why his body of work has generated favourable comparisons to the likes of Iron & Wine, and Sufjan Stevens. Fitzsimmons shows a remarkable ability to balance the raw humanity of his lyrics and musical arrangements, with flashes of electronica that add to the genuine emotion he expresses, rather than overpowering them or dulling their impact. 'Josie's Song' is a typical example, the gentle resignation of the vocals and stripped back acoustic backing easily invoking Stevens at his most evocative (think 'To Be Alone With You' or 'Casimir Pulaski Day'), if slightly more melancholic. The sustained electronic piano chords that are introduced create a colder, more isolated atmosphere, but without detracting from the quiet warmth of Fitzsimmons' voice. 'Centralia', with its distant, heavily distorted rock opening, turns into similar fare, with its minor chord progressions and emotional vulnerability. He sings, "I offer myself to you though I am a broken thing, a cardinal with a severed wing", a typical example of the understated beauty and poignancy of his lyrics.
At times, the pace picks up. The insistent drum beat on new single 'Fortune', for instance, lends the song a sense of urgency that is often missing from other tracks. While Fitzsimmons' vocals remain soothingly unhurried, the beat provides a welcome contrast, slotting in nicely alongside the finger-picked guitars and discordant chords thrown in for good measure. It's the kind of thing that Get Cape. Wear Cape. Fly. used to do so brilliantly back in the day.
However, it's a brief interlude in an album that otherwise sticks to a constant rate of knots. While that isn't a bad thing, the lack of variety in pace and texture can sometimes mean that the tracks bleed into one another, their unobtrusive instrumentation and restrained vocals not fully forcing the listener to pay attention as they wash around them. However, devote yourself to the listening experience, and there are plenty of intricacies to be discovered.
For anyone unfamiliar with William Fitzsimmons' work to date, Lions should be more than enough to convince them of his reputation as one of the most talented acoustic artists and songwriters around right now. Its combination of emotive lyricism and beautiful musical arrangements are hard to argue with. While it has more of a gentle purr about it than a lion's roar, it's nonetheless another wonderful collection to add to his back-catalogue.
Lions is released on 17th February via Nettwerk Records.