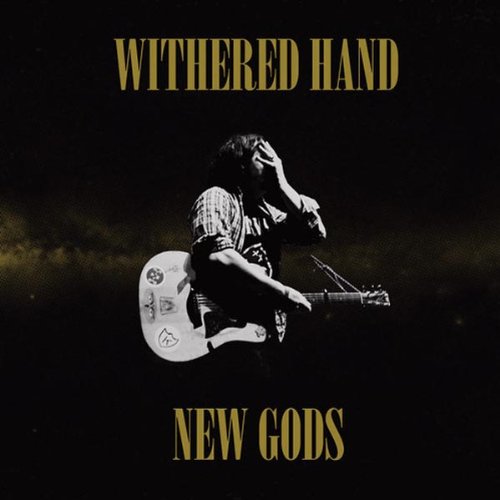 New Gods, the second album from Withered Hand, is a folk-rock ode to the many facets of life. Withered Hand, otherwise known as Scottish singer songwriter Dan Willson, has teemed up with producer Tony Doogan, who has previously worked with fellow Scots Teenage Fanclub and Belle & Sebastian. An eleven-track explorative journey, Willson muses on the transient natures of life and love in his latest musical offering. Its rawest, most melancholic moments encourage reflective introspection, whereas there are some more anthemic, raucous tracks in which Dan Willson seems on top of the world. Each song has an anecdotal feel, as if they are all retelling parts of the same story, or are presenting an eclectic mix of emotions around the same event.
Album opener and first single 'Horseshoe' is a well crafted, melodic, folk song with a smattering of pop. Cries of "we can kill our friends" accompany a happy smiler of a chorus. It's the sort of song you can imagine singing along to in the car on a summery day. 'Black Tambourine' follows, and is equally bright and happy. Jangling guitars evoke comparisons to psych-folk scousers The Coral. Lyrically, this feels quite introspective, with lines such as "I'm keeping myself alive, facing down the fear, I don't know who I am, what's the big idea."
Third track in, the other, more mournful side of Willson's personality begins to shine, with the sound taking a more melancholic turn. 'Love Over Desire' has slightly whining, fragile vocals accompanied by reflective strums of guitar. The word "Love" is repeated rather a lot in this track, which can feel a little irritating after a while. However, as soon as this sombre track is over, Withered Hand jumps back on the happy wagon with 'King Of Hollywood', which has an upbeat melody, complimented by optimistic sounds of an accordion in the background.
Constant jumps from sad to happy become a theme throughout New Gods, with the sad and lamenting 'California' being followed by the melodic and epic 'Fall Apart'. Stand out track is 'Life of Doubt', which is, surprisingly, where Withered Hand is at his most vulnerable. Its raw production sounds pure and honest, with confessional lyrics of "I wanna give up the ghost but the ghost won't give up me"; as far as sad songs go, this feels revealing and reflective, as if Willson is offering us a voyeuristic look into his soul.
After title track 'New Gods', which fits like a warm (if slightly depressing) glove, its as if Dan Willson's friends have stepped in to bring him out of his mournful stupor in penultimate track, 'Heart Heart'. It begins like most on the album, with strained vocals and strums of guitar. That is, until, there's a massive shift, with a burst of fast-paced drums, one constant piercing note on piano and huge choral shouts of "whoa whoa". This musical transformation is the most exciting moment on the album, and highlights the many sides of Willson's musical personality.
New Gods is a long, winding journey of an album. It begins with happiness and optimism, feels mournful and reflective in the middle, before leading up to a life-affirming crescendo.
New Gods is released on 10th March via Fortuna POP! Records