2022-09-17 – Arkells & Lights – o2 Institute 2, Birmingham
Photography & Review: Glenn Rossington.
Sometimes, one of the best things about being in a country that isn't native to the artist(s) touring, is that you sometimes get to experience them in a much smaller venue than they would be playing in their home country. Tonight, Canada's Arkells are in the midst of a European Tour culminating in a round of dates in the UK. But not only that, they have brought their good friend Valerie Anne Poxlietner – best known as Canadian Alt-pop musician Lights – along for the ride as a joint headliner.
Having two great acts means that we get two decent length sets. At bang on 8pm, Lights arrives on stage preceded by her backing duo (drums and guitar/bass) and bounds straight in to 'Prodigal Daughter' from here recent album release 'PEP'. What follows over the next hour and twenty minutes is what can only be described as a mini 'Greatest Hits'. Of course, we get a healthy slice of tracks from the new album, but we get a few deep cuts from her back catalogue which includes a couple of her many duets and deviations in to dance.
Every solo record is represented. From her previous release 'Skin & Earth' – which also saw a simultaneous self-penned and self-drawn comic book released alongside – we get 'We Were Here' and the guitar heavy 'Savage' which tonight is renamed to "Sad Bitch" as a testimony to the last few years and the pandemic. Her 'Little Machines' album is represented by 'Up We Go' and 'Running with The Boys'. Her second album; 'Siberia' is represented by the perfect title track and finally, the debut album 'The Listening' is also represented by the emotional 'February Air' being given a rare outing. Lights has always been an incredible performer who throws herself in to each show and visibly enjoys everything she does on the stage. During 'Running with The Boys' she even segues in a snippet of 'Fall Back Down' from her long lost 'Acoustic EP'.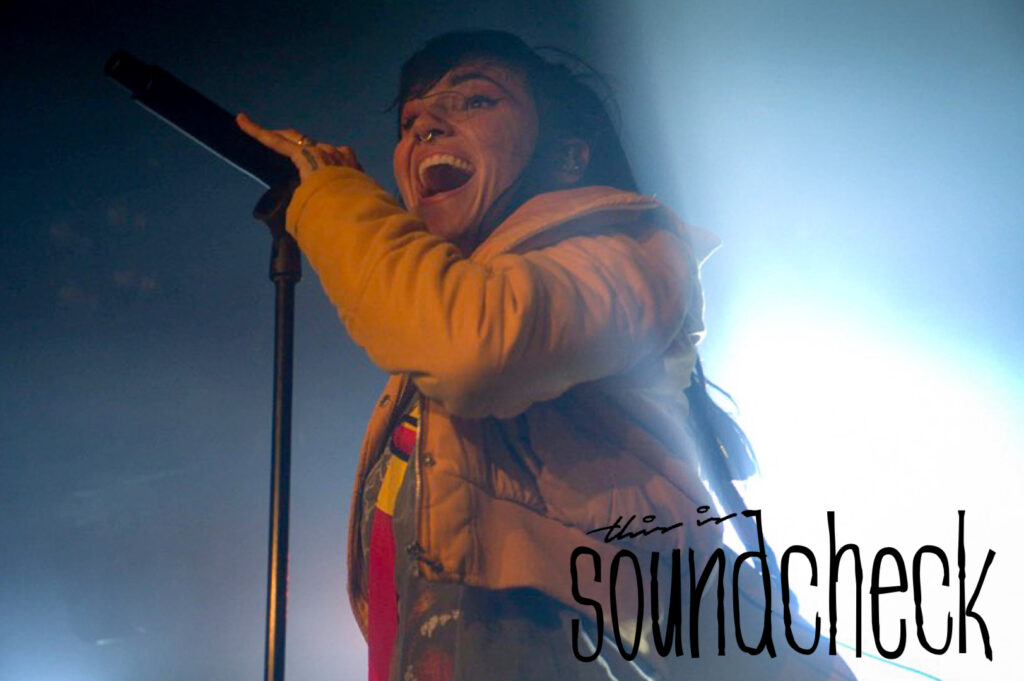 Her vocals are impressive in the intimate venue, and you can tell that she is made for the bigger stages. When she's not on guitar at the front of the stage, Lights is milling around the stage, leaning into the front rows, or is sat behind her keyboard telling us tales of love, loss and hope. Her Felix Cartel duet 'Love Me' shakes the venue with its thumping basslines, and both 'Dead End' and 'Batshit' from her mini album released with MYTH show more of the dynamic versatilities of her songwriting.
It is the newer material though that shines brightly tonight, sitting perfectly alongside her older material. 'Salt & Vinegar' is a groove laden monster, 'Real Thing' signs off the warm summer vibes we've experienced over the last few months. Her new single 'Okay Okay' is massive in the intimate setting, and the finale of 'Grip' is perfect. But the outstanding highlight tonight comes roughly two thirds of the way through the set. Released as a stand-alone single during lockdown, but now proudly opening the album, 'Beside Myself' is simply magical. The combination of the audience and band projecting ethereal voices against each other, only outdone by her angelic vocals on the song tributed to those we have lost. All of this backed by the visual spectacle of mobile phone lights appearing like a room of stars is simply incredible. Overall, it's hard to believe that this was the warm up set for the main act. A stroke of genius bringing Lights along to support.
And in what feels like is the blink of an eye but in reality, is a good thirty minutes, we are gearing up for the headline act. Not being overly familiar with Arkells, I am anticipating this set, and a guy on the front row tells me that he is seeing the band in Vancouver in November where they will play to 25,000 fans. Tonight's' 1,100 capacity feels like this is set to be something special.
They arrive on stage and launch straight in to 'Past Life' and 'Leather Jacket'. Frontman Max Kerman has fine-tuned the art of being the effervescent frontman, supported by the rest of Arkells made up of; Mike DeAngelis, Nick Dika, Tim Oxford, Anthony Carone and touring saxophonist Dennis Passley. Kerman works the stage like a pro and is reaching out to those front rows and bantering with everybody. During 'One Thing I Know' Max addresses the audience and declares the rules of the night, the third and final one being that everyone must sing and "shake their asses". A rule that everyone is seemingly very pleased to endure. 'And Then Some' gives way to a fan request of 'John Lennon' much to the delight of everyone in the room.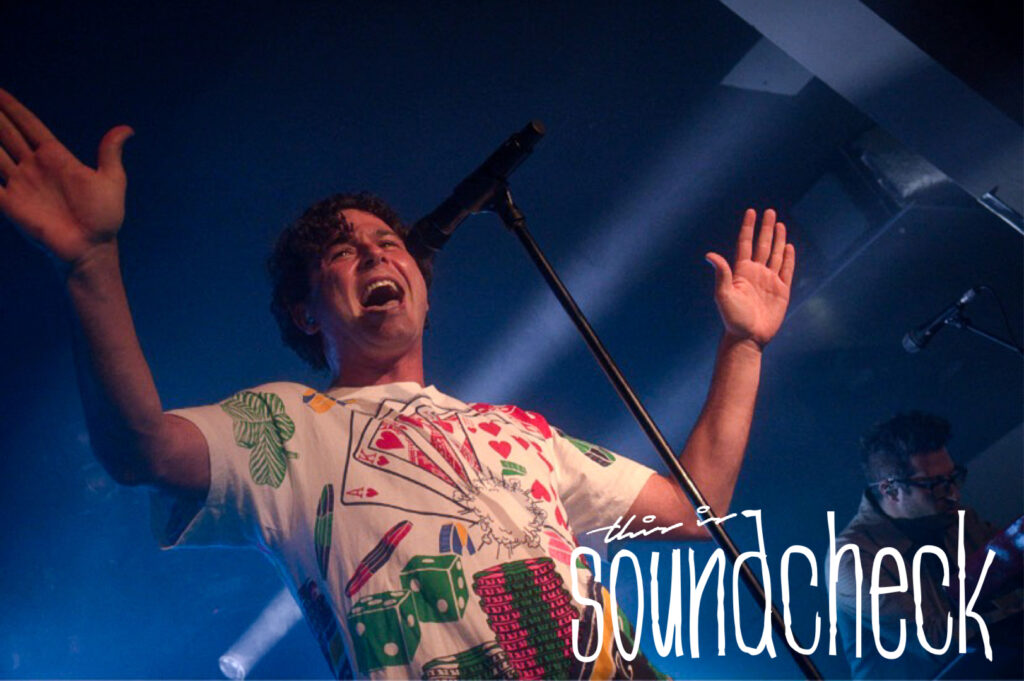 Kerman again addresses the audience by asking what time it is… disappointed that it is only 10pm, needless to say that right now it is '11:11′ as they launch into the song. It's then time to bring out a special-but-not-such-a-surprise guest in the shape of Lights as she joins them for their joint single 'Human Being'. The energy in the room is ecstatic throughout Arkells' set. Whether you are new to the band, or whether you have followed them since their 2008 debut 'Jackson Square' and beyond, this show had everything.
With new album 'Blink Twice' out next week, we get a few sneaky tasters of what to expect, but naturally, it's the older hits and fan favourites that entice the audience to scream along in pure joy. We even get a fan request for 'Nobody Gets Me Like You Do' which they proceed to play acoustically for the first time. 'Oh, The Boss is Coming!' is delightful and 'Quitting You' sees Max run in to the crowd adorned by a flurry of phone lights bathing him as he performs.
'Years in The Making' and 'Knocking at the Door' close the set and it's not long before the band are returning for the classic encore starting with 'Reckoning' and segueing into a cover of ABBA's 'Gimme! Gimme! Gimme! (A Man After Midnight)' which is quite bizarre but equally awesome. Finally, to close off the night, we get 'You Can Get It' which is euphoric and if the roof was still standing on the venue, it has now well and truly been knocked off its perch. They may have strayed from the actual setlist on the stage tonight (playing songs in the wrong places and dropping in a lot of requests), but Arkells were on fire.
As Max said on stage tonight, it has been over 4 years since they were last able to play shows let alone travel to far off places and play shows for us over here, but here's hoping they will be able to return again in the not-too-distant future. If you are able to get to the handful of remaining dates, please go and treat yourself. To blink once, you will miss it, but to 'Blink Twice' is just silly.