2021/05/28 – Alan McGee In Conversation – Arena Theatre, Wolverhampton
Photos: Glenn Rossington.
Alan McGee was once as famous for his wild lifestyle, in some cases, more notorious than the bands he managed via his label Creation Records in the late 80's and throughout the 90's. Upon embarking on a sobering lifestyle, now running an average of 15 miles daily, The Scotsman come Londoner was in Wolverhampton to discuss his new labels Creation23 and It's Creation Baby! and plans for 2022's Creation Day Festival to be held at Wolverhampton's West Park.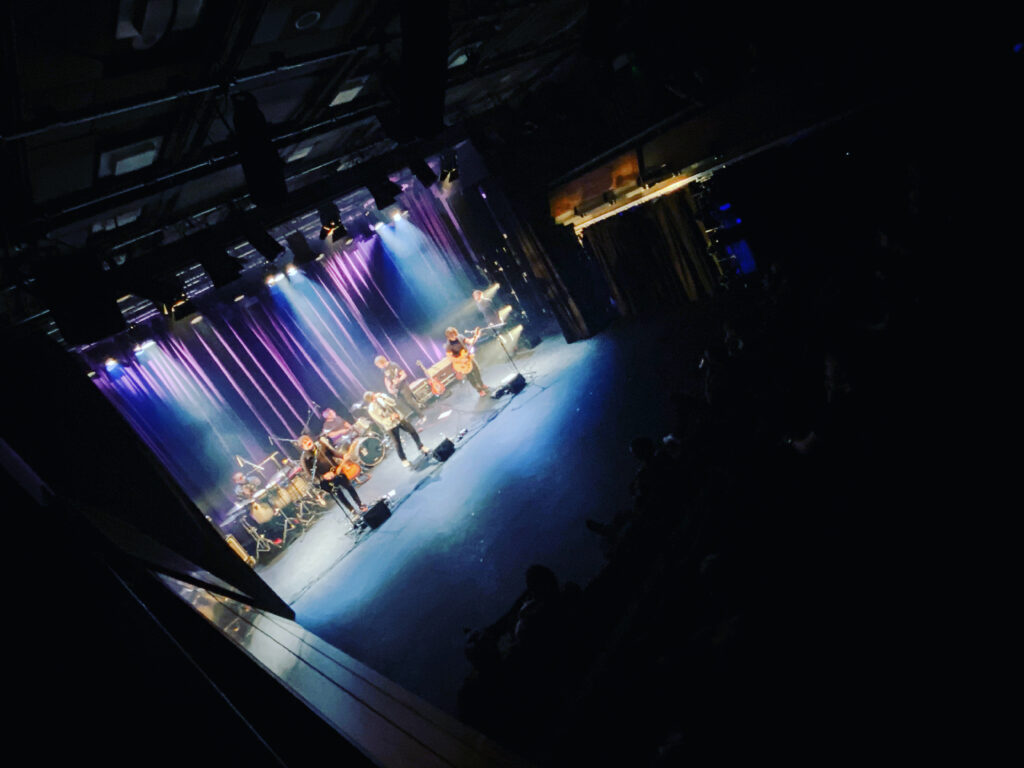 Before the discussion in front of a socially distanced audience, the ticket holders and online community (the event was being streamed for those who could not be in attendance) were treated to an energetic and triumphant live set from Marquis Drive. The fast rising indie band from Cannock. The band who are signed to McGee's Creation23 Record Label provided the first live gig entertainment for many in just under 15 months thanks to the pandemic. The 40 minute set was an absolute belter.
The songs sounded loud and confident and the swagger from the 7-piece band was refreshing in this modern climate over over-blown pop. It's difficult to pinpoint who they reminded of, as there were elements of The Roses, Shed Seven, Ocean Colour Scene and The La's. Opener 'Movin' Up' was groove-laden and captured the attention of the audience in an instant. We had the debut of a new song written during lockdown, provisionally titled 'Pornstars and Get Away Drivers' which with its dual drumming, brash guitars and indie vocals was a highlight. '21st Century Gospel' was almost 'Chasing Rainbows' for the Instagram era, and set closer 'Proud' sounded as if it was built for stadiums. All in all, a fantastic way to blow off the cobwebs after 15 months away.
After a brief intermission, the stage is brought forward and two chairs and a backdrop emblazoning the Creation Day Festival logo appear. Alan McGee and Clint Boon arrive for what would follow, a lengthy discussion about past glories, future endeavours and of course, next years' festival. From the outside, the impression you get of Alan McGee is a brash and harsh individual who doesn't enjoy opening up too much – however, this is far from the truth. Throughout the chat you discover he is very clever, kind, passionate and quite affectionate. He did admit that he has difficulty with people praising him, but the recent 'Creation Stories' film based on his book 'Riots, Raves and Running A Label' has enabled him to warm up to compliments.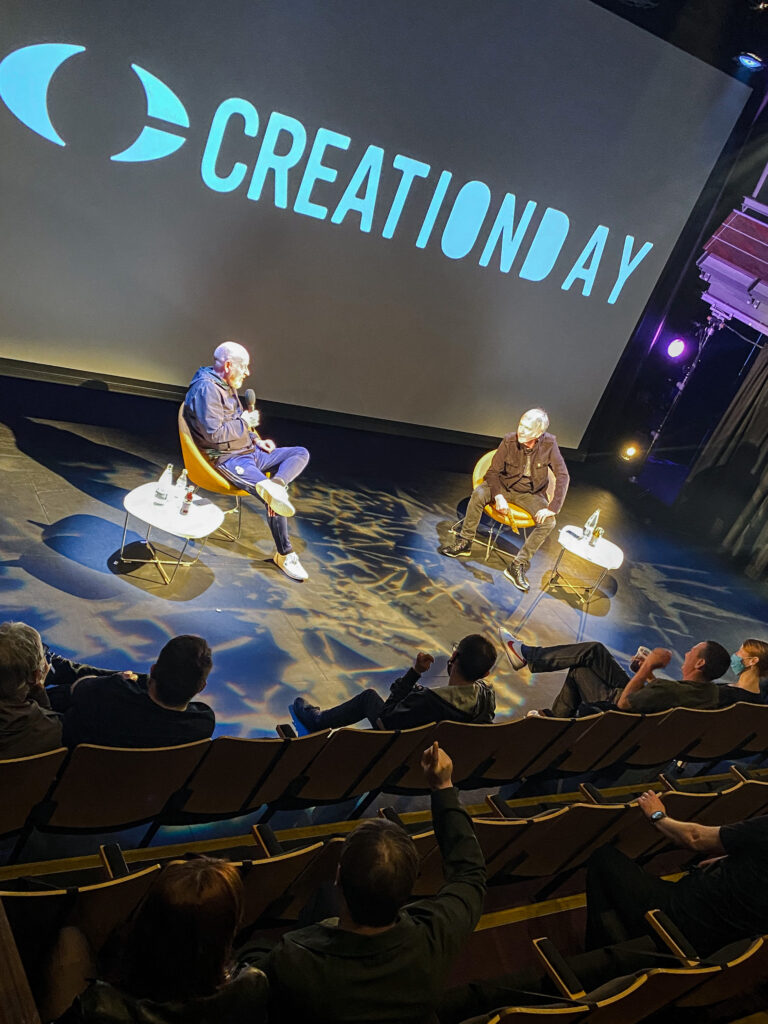 You do start to feel sympathy towards him as he talks through past events. The media mis-represented him and his wild lifestyle, albeit some elements of it being true. We discover the day he met Andrew Wetherall at an illegal rave whilst he was looking for E's in the grass – which bizarrely led to him producing a record for Primal Scream resulting in the era-defining 'Screamadelica'.
The biggest sympathy for McGee however, is when the questions are opened up to the floor. It seems that despite an illustrious and successful career to date, all people want to know about is Oasis. The endless "Will they/won't they get back together", "Who is your favourite out of Liam and Noel" are tiresome – you have to wonder whether Alan dreads doing these events purely for the number of questions he'd get regardless of them being Creation's most successful act. Clearly there is still an interest, and unfortunately, McGee may be the only person apart from the Gallagher's who at present would be able to answer them.
It would have been nice to hear other stories of his other signings or advice to new artists etc… It was interesting to hear which former music TV show both him and Clint would bring back if they could. It was also a delight to hear the details about how the forthcoming Creation Day Festival came about. Originally set to take place this very weekend, it was Covid that has pushed it back to next year naturally. Alan let slip that it was on his last visit to Wolverhampton for the literature festival at the Slade Rooms in 2019 that started the ball rolling and it was an idea initially from the City of Wolverhampton Council. Alan also confirmed that although some discussions are still being had, the majority of the line up will be as originally announced for 2021, but there is some question regarding a headliner at present.
After an hour and 20 minutes, the event drew to a close with Alan offering to sign autographs for anyone who wanted one. A truly wonderful evening and a fascinating insight to one of British Music's pioneering managers. We certainly look forward to welcoming Alan back in the future and we are looking forward with great interest to the launch of Creation Day Festival in 2022.
For more information on the festival and tickets, check the website at: www.creationdayfestival.com