2021-06-05 – 1-2-3-4 NSEW Tour – The Underground, Stoke
Photographs: Glenn Rossington.
Live music should always leave you asking questions, if one of those questions though is "what the f**k did I just witness?" then one of two things has happened. Either the music and performance was so insane that it was brilliant, or it was a total car crash. Tonight has resulted in both of those, however, after much reflection, it appears that tonight was utterly shambolic but absolutely brilliant.
The 1-2-3-4 NSEW Tour is currently rolling across the UK providing the best in emerging artists from the London Scene at a series of socially distanced and near enough Sold-Out gigs. With it's constantly rotating line up, tonight features local lads High Viz Jackit Theory opening up, a middle set from Nuha Ruby Ra and a headline set from Muck Spreader.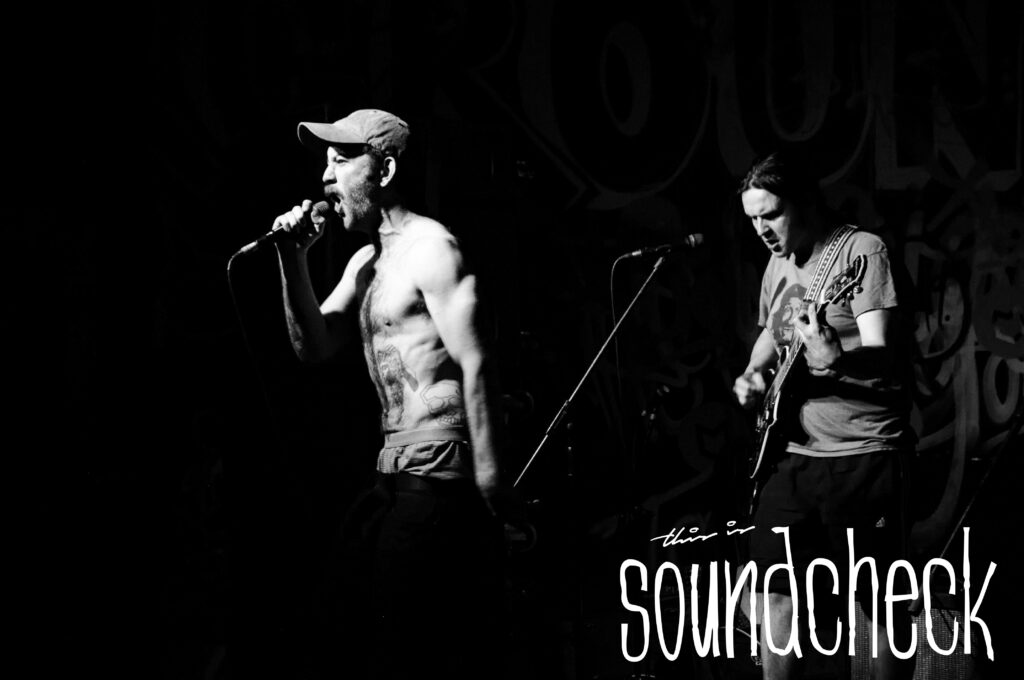 As previously mentioned, High Viz Jackit Theory launch the night in spectacular fashion. Their brand of high octane Rock n Roll is a much missed sound from the last 15 months. Being the "local lads", the seated audience seem to be made up mostly of their fans which only adds to the atmosphere. There is banter-a-plenty as the short set rolls on, and there is even a cheeky call out for any drummers in the house to come and take over from their sticksman.
The whole set is peppered with fun and frolicks, it's difficult to make out the song titles, but 'Devilz', 'Nan's House', 'Bitch Rown' and final track 'Push It Down' are an absolute scream. Definitely a band to keep an eye on if you are after some high-energy riffs, thunderous bass and an energetic frontman.
After the stage is cleared and some temporary lights set up, the lights dip and Nuha Ruby Ra makes her way through the audience and on to the stage Soundtracked by her track 'Intro'. Having just released her debut EP 'How To Move', expectations were high. What we got was a powerful, arty and emotionally charged set worthy of a headline status.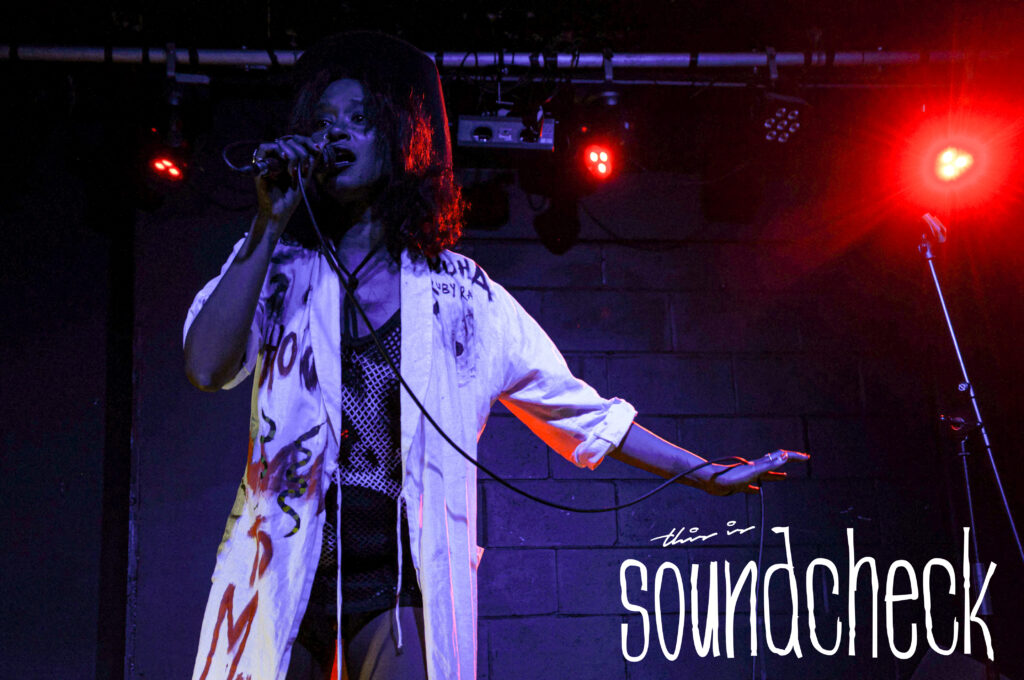 Armed with two microphones and an array of foot pedals and triggers, she is completely alone on stage but doesn't need anyone else. Her sultry moves and suggestable lyrics are taken in by the audience who become hypnotized by her every step. She commands the stage and produces a set resembling an experimental art piece.
The electrifying 'Erase Me' and recent single 'Cruel' are huge and at one point, Nuha
steps off the stage and is prowling around the audience, singing and holding gaze with anyone who looks at her. 'Sparky' is huge as she launches in to the track with it's poetry-esque and seductive vocals. 'Run Run' with it's grizzly undertones, spikey guitars and dramatic electronics blasts across the room echoing from every corner, reverberating and creating a wall of chaos is brilliant.
It may not be to everyone's liking, but Nuha is delivering both an arty and a commanding performance. Easily stealing the show from her peers tonight. Interaction verbally with the crowd is minimal, but the huge smile as her set closes says it all. An absolute delight.
Now the dilemma for the review comes from tonight's headliners, Muck Spreader. The huge 7-piece band saunter on stage and I hope they forgive for not realising their set had actually started. At first it seemed as if they were doing a soundcheck. The opening track was busy with what seemed like four different styles going on at once, there was jazz, rock, dance, metal and on top of all of this, the frontman's low decibel vocals which seemed to be drowned out by the band.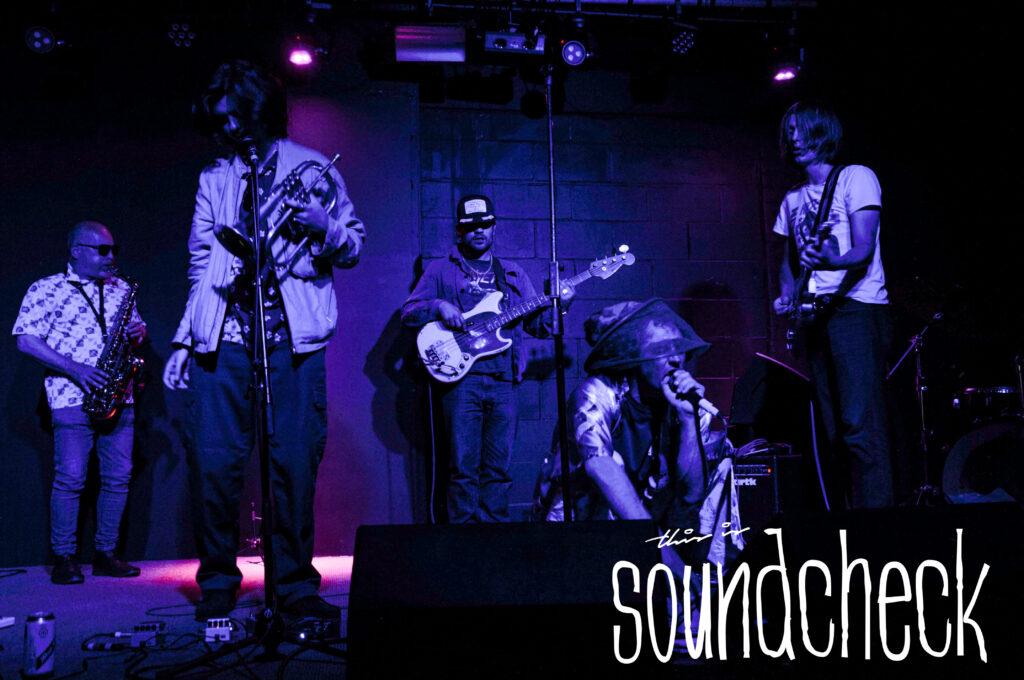 The charismatic frontman is the one to watch. Difficult to predict his moves, it's almost as if he has studied the early years of The Verve and embraced the "Mad Richard" vibes but made them his own.
As the set moves along, you find yourself becoming less baffled by it all and start to embrace it. The open mind allows anything they throw at you to be taken in and embraced. Every track is bonkers but in a due fully brilliant way.
The set is chaotic, shambolic and they give the impression that even they don't know what's going to happen next. Each musician individually is incredibly talented and if you pin point each individual you can hear this come through. The main issue tonight is the vocals, not for any particular reason other than they were inaudiable. If the vocal mix had been a touch higher, they could have stolen the whole night. It almost seems as if the set is cut short, but judging by the confused faces in the audience this was probably best, but also a damn shame. Maybe Stoke isn't ready for this new breed of Art-Rock just yet.
It has been a real wrestle of how to portray this set for the review, but it was so eclectic and messy that it was genuinely delightful and brilliant. The fact that it has taken so long to deliberate over it and has been spoken about on many occasions proves that they did their job well and grabbed attention. With a louder vocal mix they would have stolen the show and been worthy of the headline status. However tonight, that title easily went to Nuha Ruby Ra.