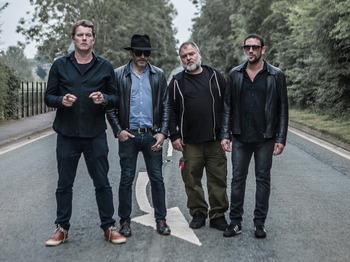 Confirming the release of their brand new album 'What Are We Fighting For', Dodgy are returning after only four years since their latest album – 'Stand Upright In A Cool Place' which was their first LP release in eleven years.
The album will be released on September 2 after the release of their up and coming single 'Are You The One' set for release on July 15. Yesterday, the band also shared a lyric video for their track 'You Give Drugs A Bad Name'.
Dodgy are also set to play their brand new album in full for the first time in Gloucestershire on June 1, where the performance will be available to watch live online.
The album is also available to pre-order now from their website- Click Here
See the band's UK tour dates below:
May
30 – Lichfield, Bowerfest
June
1 – Stroud, The Convent
3 – Uttoxeter, Acoustic Festival of Great Britain
4 – East Hampshire, Rockwood Festival
11 – Isle of Wight Festival
25 – Rawcliffe, Apollo Festival
July
30 – Kendal Calling
August
6 – Sheffield, Dronfest
13 – Loughborough, Hathernfest