News
With the release of their very much anticipated second album 'How Did We Get So Dark?' due 16 June, Royal Blood have announced details of their first major UK and European tour in support of the...

Alt-J have today released the video for 'In Cold Blood'. The video was shot in Hareskoven Forest near Copenhagen by the Danish film maker and photographer Casper Balslev and features...
Live Reviews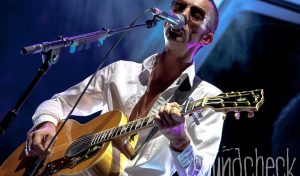 On a rather cold and wet evening in Birmingham, there was a hive of activity in the city's Barclaycard Arena as Richard Ashcroft – former frontman of 90's indie legends, The...
The self proclaimed "tribal blues trance band" from Amsterdam are a breath of fresh air in a world full of nothing but shiny, over-produced modern pop.
After a high-octane year having released their debut album, garnering high critical acclaim, playing sold out tours and festival appearances galore, Blossoms last night brought back their rocking...

Arguably, already the most intimate Midlands venue, the O2 Institute in Digbeth, Birmingham, looked especially exquisite for Laura Marling's gig, with its stage decked with foliage. Dressed...

Manchester legends Elbow played the second of their two-night residency at Birmingham's o2 Academy and managed to completely melt the hearts and souls of everyone who attended. Somewhat used...
Reviews
Hailing from Tromsø in Norway, Dagny looks set to unleash a wonderful career of pop upon the world.
Bristol's finest alternative dance icons return with a spectacular ep to whet the appetites in between albums.
Oxford Quintet go big on 4th album.
The Irish songwriter returns with her fifth album providing an envelope of dreamy yet stunning soundscapes.

In 2012, London based soul/R & B songstress Jessie Ware appeared with a near perfect collection of slick, shining down tempo tracks in the shape of 'Devotion'. The nu-wave dance of...
Royal Blood are a ferocious, hard hitting live band - who now have an album to match.
A sublime, mesmerising sophomore album from the East London folk-rock outfit.