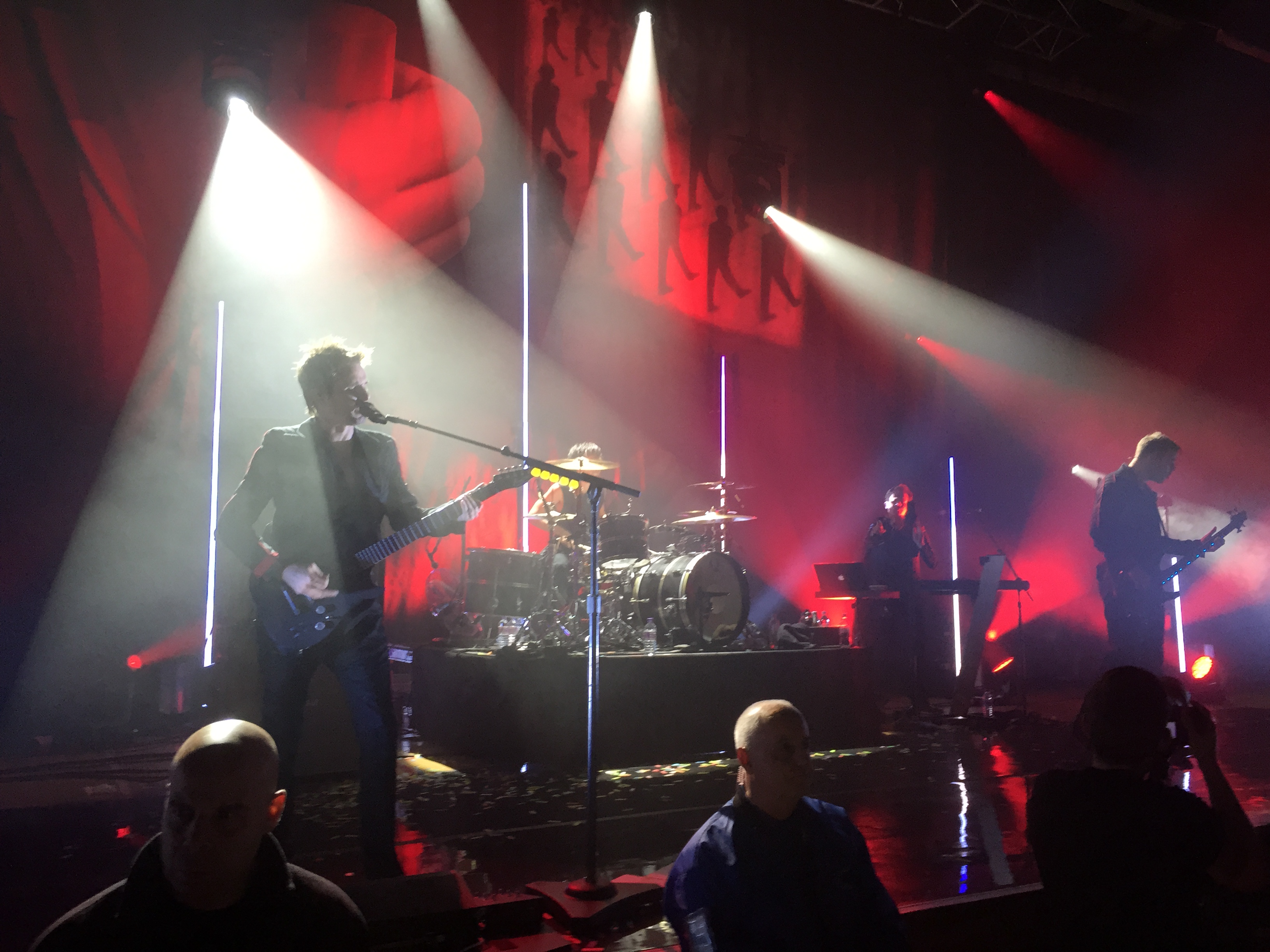 When one of the biggest bands in the world announce an intimate tour to promote a surprise new single, it's not shock that tickets sold out within a minute. Those lucky enough to grab a ticket to see the Devon rockers had less than a week to get hyped up and prepare for a night of pure adrenaline rock n roll.
To add to the impressive intimate surroundings tonight, preceedings start with special guests, the awesome Marmozets. Supplying a criminally short 35 minutes of their blend of rock, those unknown to Marmozets already are left dumbfounded and impressed. Tracks from their impressive debut take on a rawer and tighter vibe live. 'Move, Shake, Hide' kicks things off with a bump. Frontwoman Becca Macintyre shows the passion of Paramore's Hayley Williams back in the day. 'Weird and Wonderful' and 'Hit The Wave' showcase their magnitude, but softer moment 'Particle' shines out bright and adds another dimension to the 'Zet's set. Closing track 'Why Do You Hate Me?' brings out mini moshes and a small circle pit down the front. Easy to assume that not only were Marmozets the perfect openers tonight, but won over a few new fans too.
Just after 9pm, the lights dip and soon the entire room is screaming out in anticipation. There is no shebang tonight, no formal intro tape, simply, off stage, Matt Bellamy's guitar crashes in and an elongated riff to new track 'Psycho' rips in as Muse arrive on stage. As soon as the song kicks in fully, the audience are already treating it as an old favourite, singing along to each guitar stroke and moshing like there is no tomorrow. Matt is playing guitar all over the stage, coming right to the tip close enough for fans in the front row to almost touch the guitar. Bassist Chris Wolstenholme plays with an utter groove that oozes coolness and drummer Domonic Howard becomes a pure powerhouse behind the kit.
Talking to Chris post gig, he explained that this run of shows was urely to blow cobwebs away and to have some fun playing tracks that haven't been given an airing for a while. "The freedom to change the setlist night after night on a tour like this is brilliant. In the bigger shows if we drop a track for something else, it messes up the whole production element; we have to have new videos, different lights, different stage arrangements. Tonight, we could just choose to play what we wanted and not really care about that other element". This becomes apparant as the evening goes on. Second song in the set tonight is 'Futurism' – a song that hasn't been played live in the UK since 2001. As soon as Matt introduces the song as "A song which we intended to be on Showbiz but left it off" you can sense the anticipation in the crowd, then as the riff kicks in, the place begins to bounce again.
'Bliss' sees the band drop giant "Hullaballoons" on to the crowd filled with confetti as they pop. 'Hysteria' sounds grand and contains a snippet of ACDC's 'Back In Black' as the outro. The band segue in to a fast and furious performance of 'Plug In Baby' which again sends the audience in to hysterics. Another surprise for the night is the inclusion of 'Assassin', another song not played live in a while (Since 2007). This cushions a mighty version of 'Stockholme Syndrome' before early b-side 'Agitated' rips through the venue. By this point, many clothes are soaking wet, condensation is drippig from the walls and everyone is ecstatic.
'Supermassive Black Hole' sounds stunning in an intimate setting, the reverb on Matt's guitar coupled with Chris' thunderous bassline and Dom's sniper-style drumming could literally blow cobwebs away. Again the band begin to tease and extend the outro as it segues nicely in to 'Uprising', again bringing in that thunderous bass groove. The main set closes on an epic performance of 'Knights of Cydonia'. As Chris performs the harmonica introduction, a single voice is heard in the crowd stating "This is going to kick off big time". Quite literally the understatement of the night. As the song kicks in, it feels like the entire front rows are being shifted from side to side, crowd surfers come firing across from all angles and the audience sing-a-long is one of the loudest of the night. The band walk off stage with a small nod to the audience who are literally breathless and begging for more.
Minutes later, the band return and start up with 'Unnatural Selection'. Keeping the vibrant pace going, just as you think the audience are beginning to tire, there comes a second wave and we're off again. Penultimate track tonight is 'Time Is Running Out' which allows us to catch a small breath before final new song of the night 'Reapers' stuns the audience in to a mosh.The song builds and builds up in layers to a full blown rock out. Matt points his guitar up in the air as the track dies out before placing it on the ground and thanking us. Him and Chris wave goodbye and leave the stage graciously, Dom however decides to come to the edge of the stage and bows down to the legions of fans before handing his drumsticks out and subsequently leaves the stage too.
Tonight it's simple, Muse have made us their drones, we react to every chord, every drum beat, every bassline, how very apt. To have the pleasure of seeing a band of this magnitude in such an intimate setting evoked memories of the Showbiz and early Origin of Symmetry tours. It's amazing to see how the band have developed since those early years, yet still seem exactly the same. Watching Matt's guitar playing up close, to see how the band interact with each other in close proximity is very special indeed. Without question, Muse will blow their headline slot at Download Festival out of the water, the excitement starts when the next run of tour dates are announced. Undoubtedly this should be post festival season.
Muse release 'Drones' on 8th June via Warner Brothers.
Review and Photos by Glenn Rossington