Noel Gallagher To Support U2
U2 have announced details of a UK and European tour to celebrate the 30th anniversary of classic album 'The Joshua Tree' – with support from Noel Gallagher. See full dates and ticket details below.
Last year, the band teased that they'd playing shows to mark the landmark year for the 1987 record, and now they've revealed the full scope of dates as they gear up to hit the road to play London, Berlin, Rome, Barcelona, Dublin, Paris, Amsterdam and Brussels in July and August.
[quote style='1′ cite="]"Recently I listened back to 'The Joshua Tree' for the first time in nearly 30 years… it's quite an opera," said Bono. "A lot of emotions which feel strangely current, love, loss, broken dreams, seeking oblivion, polarisation… all the greats… I've sung some of these songs a lot… but never all of them. I'm up for it, if our audience is as excited as we are… it's gonna be a great night. Especially when we play at home. Croke Park… it's where the album was born, 30 years ago."[/quote]
The Edge added: "It seems like we have come full circle from when 'The Joshua Tree' songs were originally written, with global upheaval, extreme right wing politics and some fundamental human rights at risk. To celebrate the album – as the songs seem so relevant and prescient of these times too – we decided to do these shows, it feels right for now. We're looking forward to it."
Revealing his delight at opening for the band at the upcoming shows, Noel Gallagher said: "It will be both a pleasure and an honour to play my part in what still remains the greatest show on earth."
U2's upcoming UK and European 'Joshua Tree' tour dates are below. Tickets are on sale from 9am on Monday 16 January.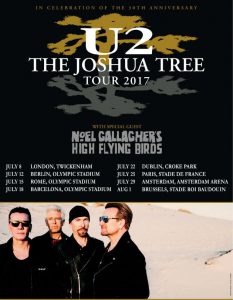 Click to enlarge