Reading & Leeds Announce Third Headliner
Reading and Leeds have confirmed Eminem as the final headliner for this year's festivals, taking place on 25 – 27 August 2017 at Richfield Avenue, Reading and Bramham Park, Leeds.  Tickets are available here.
Consistently seen as one of the greatest rappers of all time, Eminem is not only a titan in hip-hop but in modern culture itself. One of the biggest selling artists of the 21st century, his razor-sharp wit and impeccable larger than life anthems continue to defy boundaries, with the likes of 'Lose Yourself', 'My Name Is', 'Not Afraid' and 'The Monster' all storming charts and record collections around the world. His return to Reading and Leeds marks an extremely rare opportunity to witness an icon in the flesh, with a set that'll add another legendary chapter to the story of Eminem.
Melvin Benn commented: [quote style='1′ cite="]"Eminem returning to Reading and Leeds is beyond exciting. His 2013 headline performance was incredible and I can't wait to have him back. In addition to our third and final headliner (joining Kasabian and Muse) we've announced over 70 additional acts to this year's line up – it's looking stronger than ever."[/quote]
These names join a stellar bill already confirmed for Reading and Leeds 2017, joining previously announced headliners Muse and Kasabian, with Major Lazer, Bastille, Two Door Cinema Club, Flume, Fatboy Slim, Wiley, At The Drive In, Architects, Korn, While She Sleeps, Tory Lanez, Glass Animals, Circa Waves, Against The Current, Danny Brown and many more set for a weekend that brings together the most exciting sounds and artists from across the musical spectrum, capturing a year in music like no other.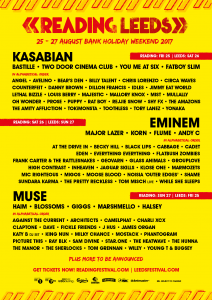 Tickets for Reading & Leeds Festivals 2017 are on sale now
Instalment plan available now with an initial payment of £50 (Plus booking fee)
Weekend Camping Tickets – £205 (Plus booking fee)
Early entry Pass – £20
Campervan Pass – £75
Seat of Luxury – £35
Lockers – £20
Reading Car Park – £10
Mobile Charging – £10
About 'The Access Card' for Disabled Customers
The Access Card is a scheme developed by disabled people for disabled people and is widely accepted at events and venues across the UK. It offers a new and dynamic method of communicating disabled people's needs and speeds up the ticket purchasing process. Ticketmaster can now process disabled customers' bookings using The Access Card via their dedicated Customer Services helpline. For more information please visit www.accesscard.org.uk